How do you cater to the pickup truck buyer that wants the next big thing? Usually, that means offering more horsepower or a higher towing rating. It can also mean rolling out yet another sub-model, a niche edition that has all the chrome embellishments, striping, and interior pomp that defines some models.
Chevrolet Silverado High Country 4×4
In GM's case, you give customers the 2014 Chevrolet Silverado High Country, a 4×2 or 4×4 crew cab model that answers similar models from Ford, Ram, and Toyota. A 4×4 version of this western-themed truck was a recent weekly drive, a hulking display of chrome, high-end power and luxury appointments wrapped in a four-door truck body.
I am not a big pickup truck fan. Or what I should say is that I am not a devotee of full-size pickup trucks. My truck tastes (and needs) run smaller as in the Toyota Tacoma or Nissan Frontier, a segment that will soon expand to include the latest iteration of the Chevrolet Colorado.
Thats not to say I don't appreciate the big pickup trucks and those that drive them there is a reason why these vehicles sell so well and are prized by families, sportsmen, and commercial accounts alike. And you shouldn't misunderstand my not a fan status as hostility: when such vehicles arrive I try to use them as you would, minus the towing and payload pile ons.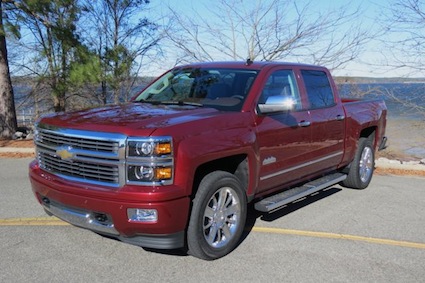 Western-Themed Pickup Trucks
That Chevrolet developed the High Country should elicit an its about time response from Silverado faithful. Then again, the High Country Chevrolet intrudes into GMC Sierra territory, a truck that is as opulent as anything its sibling brand has to offer.
In years past, GMC would have squawked, but in the new GM it is Chevrolet that upholds the company, accounting for more than two-thirds of the companys US sales. If its Chevy dealers wanted the High Country there was nothing that was going to stop GM from supplying it to them.
And Chevrolets entry is also a clear response to what its competitors are doing. The Ford F-150 line is bolstered by several special high-end models, including the King Ranch, Platinum, and Limited editions. The Ram 1500 offers three Laramie editions to choose from: Laramie, Laramie Longhorn, and the Laramie Limited. And Toyota has gotten into the act with its Platinum and 1794 Edition, the latter paralleling the F-150 King Ranch, as well as the 1500 Laramie editions, and now the Silverado High Country.
Chrome-Cladded Crew Cab
Its chrome, baby! That was my first reaction when the High Country arrived. This model is marked by a unique slatted chrome grille, a chrome skid plate and chrome touches on the side mirrors, the door handles and on the trim.
Special high country badging is found directly above the Silverado name on both sides and the opposite side at the rear. At the rear of the truck near the tail lamps 4×4 placarding was present. This model was outfitted with 20-inch 10-spoke alloy wheels set within all-season tires. All-terrain tires are optional.
And the newest feature for Chevrolet and GMC trucks was also present: CornerStep inlays on both sides of the rear bumper to make climbing on back easier. Its a smart feature that is best appreciated once it has been tried. A 5-foot, 8-inch box is standard; as equipped the test model was outfitted with the optional 6-foot, 6-inch box.
Where Western Looks and Luxury Converge
The High Country gives the Silverado a decidedly western look, but not so much that you're put off by embossing or overwhelmed by some odd color scheme that makes the interior look busy. Embossing is on the front headrests, but not on the rear seats. And, mercifully, it isn't slapped on the steering wheel, across the dashboard or on the glove box.
The seats are clad in leather, a Saddle Brown look that is at once elegant as it is restrained. That same covering is found across the instrument panel and on the doors, luxurious touches that are welcome.
What sets the High Country apart from the pack are numerous special goodies that arent offered elsewhere or otherwise are part of a package. This model includes all the amenities found in the LTZ and adds in 12-way power adjustable front seats, a Bose audio system, a power-sliding rear window, as well as front and rear parking assist.
Choose the $1,345 premium package that came with the test model and you get a heated steering wheel, power adjustable pedals, a trailer brake controller, forward collision alert and lane departure warning. Additional features include a power sunroof, navigation, under seat storage, a tonneau cover, and tubular assist steps.
Seating, Connectivity and Compartments
Get behind the wheel of the High Country and you're supported by a firm, but comfortable seat. Chevrolet has the instrument panel set up with two large analog dials flanking four smaller dials located above the digital driver information center. To the left of the steering wheel are trailering and drive control switches. On the steering wheel itself are both cruise and secondary controls.
The center stack is highlighted by an 8-inch touchscreen display with buttons and dials underneath. The Chevrolet MyLink infotainment system is one of the better ones out there fairly easy to figure out and just as easy to use. At the bottom of the panel are three USB ports, 12 volt outlets and a 120-volt outlet. Two more USB ports, an auxiliary port, and an S/D card are located inside the deep console compartment that divides the front seats.
Speaking of compartments, there are so many places to stash your stuff including a dual glove box, multiple in-door pockets and the front setback pockets. Fold up part or all of the split bench rear seat and additional in-cabin space can be had. Sure, you have the truck bed to carry your stuff too, but the in-cabin storage possibilities are excellent.

Taking it to the High End With the High Country
View manufacturer details and pricing
The Bottom Line
With its 6.2-liter V-8 engine, the Silverado High Country has no lack of power to draw upon 420 horsepower, in fact. Its acceleration is excellent, the electric steering is effortless, and braking is superb. The High Country is designed to do the job of a work truck while delivering an outstanding cabin experience.
You'll pay upwards of $55,000 to get a High Country 4×4 and you'd be hard-pressed to get 20 mpg. Neither its price nor its less than stellar fuel economy are likely deterrents for shoppers of this Country Cadillac or Texas Limousine.
2014 Chevrolet Silverado High Country 4×4
Sticker price from $48,675
Price as tested: $53,500 (estimated)
Seats 5 occupants
6.2-liter 16-valve V-8 engine
420 horsepower @ 5,600 rpm
460 foot-pounds of torque @ 4,100 rpm
4.06 inches bore by 3.62 inches stroke
Engine compression ratio: 11.5-to-1
Six-speed automatic transmission
Wheelbase: 153 inches
Length: 239.6 inches
Width: 73.8 inches
Height: N/A
Passenger volume: N/A
Storage volume: 6-foot, 6-inch box
Towing capacity: 9,500 pounds
EPA: 14 mpg city, 20 mpg hwy.
Regular grade gasoline
Fuel tank: 26 gallons
Curb weight: From 5,370 pounds
Vehicle assembly: Flint, Mich. or Silao, Mexico
More Pickup Truck Reviews
Driven: 2016 Chevrolet Silverado 1500 Crew Cab LT 4×4
GMC Sierra Denali: The Peak of Pickup Truck Living
Aluminum Tough: 2015 Ford F-150
Bigly Pickup Truck: Nissan Titan Crew Cab
The Full-Bodied 2016 Toyota Tundra Pickup Truck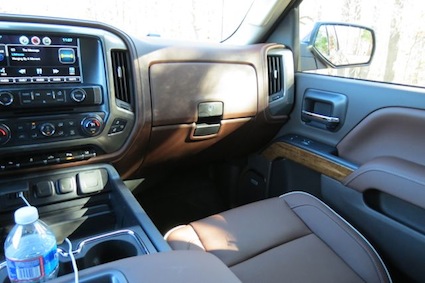 2014 Chevrolet Silverado High Country photos copyright Auto Trends Magazine. All rights reserved.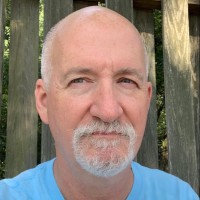 Latest posts by Matthew Keegan
(see all)