If you are at the Chicago Auto Show this week and in the vicinity of the Kia display, you will want to head over to it to check out the Kia Cross GT Concept. This vehicle gives a strong indication where Kia would like to take its crossover line, by bringing to the market a larger model that is at once stylish as it is luxurious.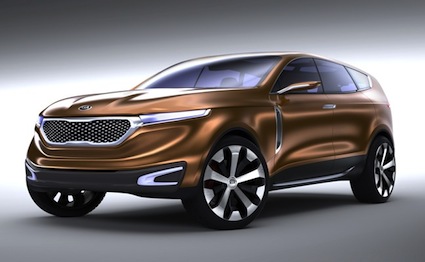 Concept Kia
The Kia Cross GT may be a concept, but it also embodies the brands desire to move further upmarket by offering higher-range vehicles. Kia has been demonstrating in recent years that it wont settle for the status quo, offering an updated Optima and a large Kia Cadenza sedan to signal its upwardly mobile intentions.
In the Kia Cross GT concept we have a vehicles that offers a muscular stance, elegant body lines and quite possibly a vehicle that would slot above the current Sorento.
Kia tapped a German design studio to craft this concept, taking its cues from earlier work done by its California design team that yielded such concepts as the Trackster, Soulster and KV7. Although those vehicles have not been built, each one has demonstrated Kia's aspirations. The new concept sits on the GT chassis and offers a long wheelbase with short overhangs. Figure that the emphasis here is on cabin room above all else.
Kia says that the Cross GT might also inspire a full-size rear-wheel-drive saloon. Saloon is British talk for sedan or what might go up against BMW, Mercedes-Benz and Audi. Indeed, add any luxury model to that mix and you will understand what Kia is thinking.
---
See Also — Merry Hamsters and the All-New 2020 Kia Soul
---
Hybrid Concept
Under the hood Kia opts for hybrid power, utilizing both a 3.8-liter V-6 engine and an electric motor to power the concept. An eight-speed automatic transmission and all-wheel-drive are standard, with Kia stating that the vehicle would achieve a combined 400 horsepower and 500 foot-pounds of torque. Moreover, it would run on electric-only power for upwards of 20 miles. The powertrain is also a concept, so dont go looking for it in a Kia vehicle anytime soon.
So, how big is the Kia Cross GT concept? Well, the wheelbase is more than a foot longer than the Sorento or 15.7 inches to be exact. Overall, it comes in 8.4 inches longer than the Sorento as its shorter overhangs close that gap. At 79.1 inches wide it is nearly five inches wider than the Sorento, but it is 1.6 inches shorter than Kia's current flagship CUV.
Suicide Doors
Rear seating access is tackled with ease as this concepts rear-hinged doors are a design feature. Typically, suicide doors are showcased with concepts and eliminated once a vehicle goes into production. It is a nice look, but not a feature many manufacturers want to embrace these days. Thats a shame too as rear hinged doors give these vehicles a distinct design as well.
Inside, this Kia concept is marked by leather covered bucket seats that feature contrasting stitching. The airy cabin is accented with re-harvested American Walnut wood. Rear passengers can access a pair of screens located on the back of the front seats to get online or play games. In the cargo area behind the rear seat a storage compartment is found in the floor.
Looking Ahead
Will the Kia Cross GT Concept become a reality? No, but it could provide the styling cues of some future model. Its design is radical, its hybrid system is innovative and its interior layout could inspire an upcoming Kia model. That the this concept was shown at the Chicago Auto Show is a tribute to Kia's willingness to push the envelope as it gauges customer reactions.
---
See Also — Happy Hamsters: 2014 Kia Soul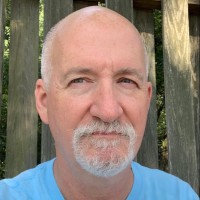 Latest posts by Matthew Keegan
(see all)