The original era of muscle cars began in the 1960s, peaked around 1970, and quickly faded a few years later as emission controls set in. In more recent years we've seen the second era of muscle cars, but the number of models involved is far less than before. Notably, there are multiple models from that long ago timeframe we won't forget. We list six of them from just as many brands.
---
1. Ford Torino GT
---
Ford followed up the successful introduction of its Mustang pony car by releasing the Ford Torino in 1968. Based on the intermediate Ford Fairlane platform, the Torino was initially an upscale version of that same Fairlane.
The Ford Torino GT edition offered a standard 4.9-liter V-8 engine, but its 335-horsepower 7.0-liter V-8 engine propelled this coupe into the muscle car territory. Known as the 428 Cobra Jet for its 428 cubic-inch engine, these models featured special red and chrome 428 badging to set them apart from other Torino GTs.
Three- and four-speed manual transmissions and a three-speed automatic were available. Furthermore, Ford made available a suspension package with heavy-duty shocks and a front stabilizer bar with this model.
---
2. Chevrolet Chevelle SS
---
Introduced in 1964, the Chevrolet Chevelle was an intermediate-sized model sold in coupe, convertible, sedan, and station wagon body styles.
Initially known as the Malibu SS, the Chevelle SS name was later separated from Malibu to create a distinct model line.
In 1970, the Chevelle SS reached its peak performance level when it was equipped with a 7.4-liter (454 cubic inch) engine making 360 horsepower. Moreover, a high-output version of that engine made 450 horsepower, with just 4,475 copies produced for its lone model year.
---
3. Pontiac GTO
---
Analysts acknowledge that the Pontiac GTO was not the fastest muscle car nor did it excel in handling or braking. What set the GTO apart is that it lifted Pontiac's performance image; it was a showroom-ready stock model that the average person could buy and drive without modifying.
Based on the Pontiac Tempest platform, the GTO's 1964 introduction essentially launched the muscle car segment, a hardtop coupe powered by a 389 cubic-inch (6.4-liter) V-8 engine.
A three-speed floor-mounted manual transmission with a Hurst shifter was standard; a four-speed manual and a two-speed ST-300 automatic were optional. Also, metallic drum brake linings, a ride and handling package, and a limited-slip differential were available.
---
4. AMC AMX
---
General Motors, Ford, and the Chrysler Corporation have long been known as the "Big Three" automakers, representing the top American car manufacturers in sales volume. By the 1960s, American Motors was the last of the surviving smaller US car companies. Consequently, it had to work extra hard to participate in every category.
Despite its small size, AMC managed to field several memorable models, including the AMX, its first muscle car. Notably, the AMC AMX was essentially a shortened wheelbase version of the AMC Javelin, an intermediate coupe. Its shorter proportions and two-seat layout made it the poor man's Corvette in some eyes, yet a surprisingly strong performer because of its light weight.
Introduced in 1968, the AMC AMX was offered with four V-8 engine choices, the largest was a 390 cubic-inch (6.4-liter) motor rated at 315 horsepower. A Borg-Warner four-speed manual transmission was standard, and each model was equipped with wider tires, special traction bars, and a dual exhaust system. Importantly, land speed racing legend Craig Breedlove set more than 100 records with the AMX, leading AMC to order a special run of 50 Craig Breedlove red, white, and blue editions to honor the driver.
---
See Also — 7 Winter Storage Tips For Classic Cars
---
5. Plymouth Barracuda
---
Based on the platform underpinning the Plymouth Valiant, the Plymouth Barracuda hit the market just two weeks before Ford introduced its new-to-the-world Mustang. Its small stature evoked comparisons with pony cars, but it wasn't until the third-generation model was released in late 1969 that 'Cuda attained true muscle car status and proportions.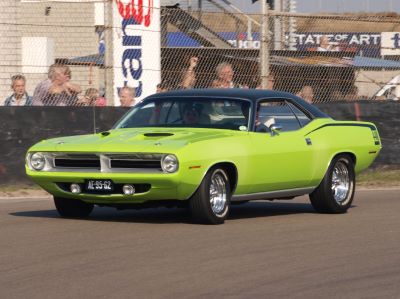 The now larger Plymouth shared its platform with the Dodge Challenger, but sheet metal and dimension differences separated the two muscle cars.
Certainly, the most famous engine that powered the 'Cuda was a 426 cubic-inch (7.0 liter) HEMI V-8 rated at 425 horsepower and paired with a four-speed manual or a TorqueFlite three-speed automatic. Only a few hundred of these models were produced, including just 21 convertibles, over the two years that this engine was available.
---
6. Buick GSX
---
Every GM car brand except for Cadillac got into the muscle car craze. Indeed, even Buick wasn't about to get left out as the raucous Gran Sport was based on the Buick Skylark. But it was the GSX edition that is the most memorable of the lot.
The Buick GSX was a model option introduced in 1970, five years after the Gran Sport hit the market. That model was powered by a 7.4-liter (455 cubic inches) V-8 engine, newly outfitted with improved heads, larger valves, and a better camshaft. It was rated as high as 360 horsepower and a whopping 510 foot-pounds of torque. Further, it came equipped with a four-speed manual transmission and was available in yellow or white only with racing stripes.
A New Golden Era
The current crop of muscle cars includes the Ford Mustang, Dodge Challenger, and the Chevrolet Camaro. We can add the four-door Dodge Charger to the list for its personal best level of potency.
Most likely, the current era won't last as vehicle electrification emerges. Indeed, it'll be a sad time when the end approaches, but just like the original era, we'll have several models to look back on with fondness and remembrance.
---
Photo Attribution:
Ford Torino GT — Wiarthurhu at English WikipediaLater versions were uploaded by DarkEvil at en.wikipedia., CC BY-SA 3.0 <http://creativecommons.org/licenses/by-sa/3.0/>, via Wikimedia Commons
Chevrolet Chevelle SS — By Riley from Christchurch, New Zealand – 1966 Chevrolet Chevelle SS, CC BY 2.0, https://commons.wikimedia.org/w/index.php?curid=70436282
Pontiac GTO — Trekphiler, CC BY 3.0 <https://creativecommons.org/licenses/by/3.0>, via Wikimedia Commons
AMC AMX — By CZmarlin — Christopher Ziemnowicz, releases all rights but a photo credit would be appreciated if this image is used anywhere other than Wikipedia. Please leave a note at Wikipedia here. Thank you! – Own work, Public Domain, https://commons.wikimedia.org/w/index.php?curid=7830731
Plymouth Barracuda — AlfvanBeem, CC0, via Wikimedia Commons
Buick GSX — By Sicnag – 1970 Buick GSX 455 Coupe, CC BY 2.0, https://commons.wikimedia.org/w/index.php?curid=64093968
---
See Also — 5 Forgettable Cars From the 1970s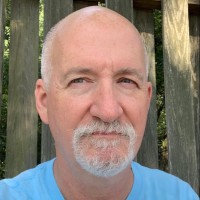 Latest posts by Matthew Keegan
(see all)