Toyota Supra fans have been waiting for what seems like eons for the Supra to return, a 2+2 fastback coupe produced from the late 1970s to the early 2000s.
Its cancellation removed an important and exciting vehicle from Toyotas line up, a model that has been rumored over the past few months to be on the fast track to a return.
Toyota FT-1 Concept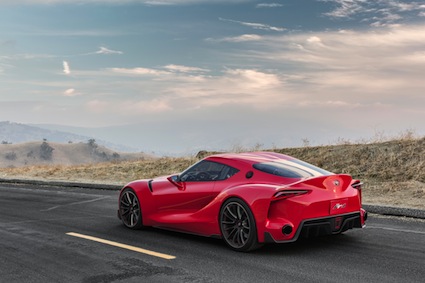 That track may come by way of the Toyota FT-1 Concept, a vehicle introduced at the 2014 North American International Auto Show in Detroit today.
FT stands for future Toyota and the 1 for ultimate. It is the work of Toyotas Calty Design Research team and represents what Toyota says is the ultimate expression of a Toyota coupe design, building upon Toyota's rich sports coupe heritage dating back to the 2000GT, Celica, Supra, MR2 and most recently Scion FR-S.
Whether the upcoming model carries the Supra mantle or some other name, the concept-turn-reality-vehicle would liven up the Toyota brand like no other model produced today. That reason alone is why the FT-1 fulfills chairman Akio Toyodas stated directive to fill the Toyota product line with exciting, even invigorating products.
Toyota Sports Car Inspiration
The Calty team had been working on the concept for the past two years, what likely has fueled rumors that the Supra was on its way back.
Alex Shen, Calty's Studio Chief Designer noted as much stating, "Our team was heavily influenced by Toyota's sports car past, especially Celica and Supra, and we sought to capture some of that history. It is an aggressive, track-focused sports car concept with a presence that has been amplified for shock and awe."
My Toyoda himself authorized the concept in a bid to reform Toyotas product line, what some have considered too plain and thus too safe for many years. Waku-Doi is a Japanese phrase meaning palpable heart-pounding sense of excitement, to build cars that emotively connect with its customers.
Toyota has the quality and reliability part down pat, but a satisfying ownership experience also includes building vehicles that emotionally connect with people. In the FT-1, Toyota appears to have rediscovered that, mirroring what Harley-Davidson has done with motorcycles.
Raw, Muscular Design
The Toyota FT-1 is marked by a design language that is muscular, curved and highly suggestive. It looks like it belongs on the track and has the inlets, ducts, and vents that race cars employ for airflow management. It even comes equipped with a retractable rear wing that deploys and tilts forward at higher speeds to create additional downforce.
As expected, the concept is a front engine, rear-wheel drive model with the cockpit pushed further back to even out its weight distribution. Elements of the classical Toyota GT2000 design are evident too with its wraparound windshield and side glass openings.
The FT-1 could just easily have been called F-1 to point to its racing-inspired steering wheel. The low to the ground cockpit, a delta-shaped display zone and overall minimalism places the focus on the drive without the distraction of too many bells and whistles. A color head up display keeps important vehicle information in the drivers line of sight.
From PlayStation to Concept
Toyota first developed the concept for the Sony PlayStation Gran Turismo game environment. Mr. Toyoda, himself an accomplished race car driver, completed the virtual circuit and was hooked. Especially after beating the lap time at Fuji in his LFA.
That paved the way for the concept to be built and begin touring the international auto show circuit. And although Toyota has not committed to building this vehicle, it "…embodies elements of the emotion and performance that Toyota will imprint upon future production designs.
Yes, the Supra seems likely to return or at least its spirit wrapped in a sports car frame.
---
See Also – Production Reality: 2018 Lexus LC 500
Toyota FT-1 concept photos courtesy of Toyota Motors of America.
Latest posts by Auto Trends
(see all)