OH CRAP! IT'S MR. TWO!
---
This automotive supervillain has junk not in the front, not in the trunk, but in the rear-middle of its bodacious figure. It's the Toyota MR2 mid-engined sports car, and it's responsible for popularizing affordable, mid-engine enthusiast cars for those that want to get around a bit differently.
See Also – History of the Pontiac Fiero
Toyota MR2 At-a-Glance
Known for: Mid-engine, lightweight handling characteristics. Toyota reliability, the poor man's Ferrari, and those glorious POP-UP HEADLIGHTS!
First Model Year: 1985
Final Model Year: 2005 (in the US)
Original Price in 1985: $10,999 (around $31k USD today)
Total Sold in the US: 147,243 [source]
What Does 'MR2' Stand For?
MR2 stands for "Midship Runabout 2-Seater". It's one of those glorious alphanumeric model numbers that actually stands for what the product is!
Thank goodness it never made it all the way to the McLaren MP4-12C territory — extremely famous for their printer-esque naming conventions.
Toyota MR2 Generations
Editors Note: The years that the MR2 was available in the United States differs from when it was available in other parts of the world. The information below relates to US-specific model years and chassis codes [source].
Read Also – Dodge Viper Generations
First Generation – MKI (AW11, 1985-1989)
If you have any class at all, this is the generation you think of when "MR2" is brought up. It has the angular, almost Lancia Stratos-esque front fascia with POP-UP HEADLIGHTS!
It was introduced in 1984 (as a 1995 model in the US) and remained in production until 1989, so only a 5+/- year production run—yet the impact it had on the car community was much larger.
It had a similar engine to the venerable AE86 Hachiroku from INITIAL D fame, which was a 1.6-liter, 4-cylinder 4AGE engine that produced 112 horsepower and 97 lb-ft of torque, which was coupled with a 5-speed manual transmission.
People raved about its handling, agility, and accessible price point. And, from my research on Craigslist and FB marketplace, it seems you can still pick up a decent example for under ten thousand USD.
It's a pretty penny, and hurts even more when you know these were $2K 3 years ago…but we don't have to think about that. Just think about THOSE POP-UP HEADLIGHTS.
Second Generation – MKII (SW20, 1991-1995)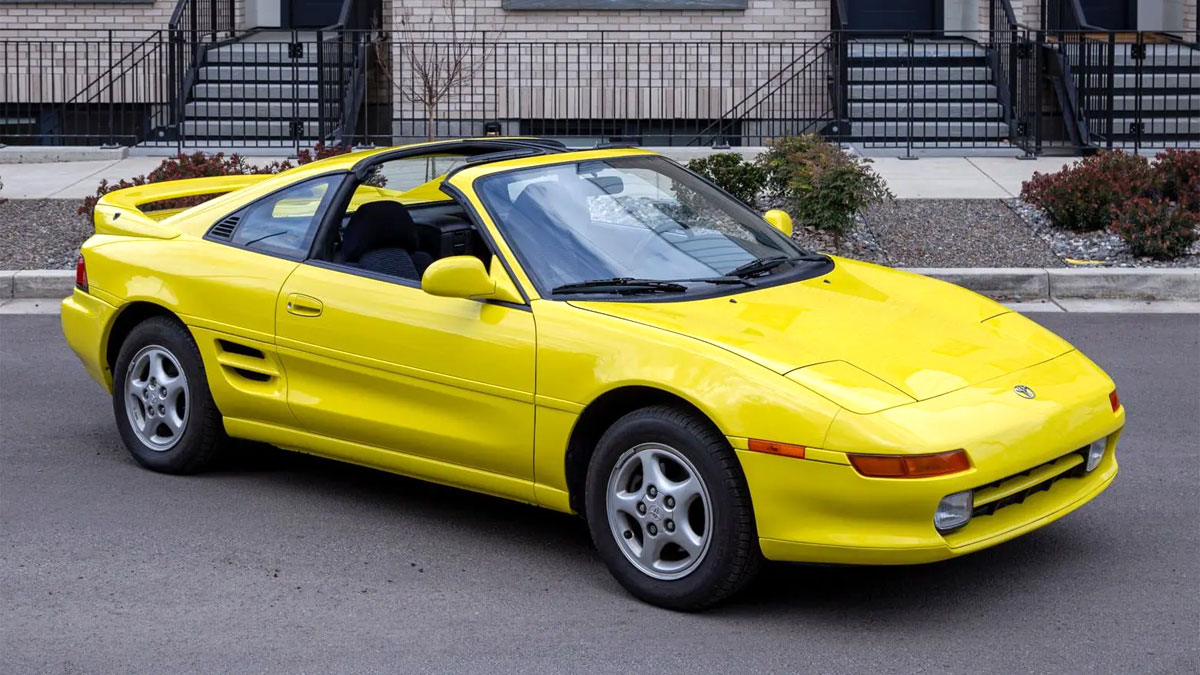 This is the sexy one. The one that looks like a budget Ferrari. The one that had the famous "snap-oversteer" issue, which everyone wants to mention even if they would never drive a vehicle to the actual limit. (Calm down, I'm one of them. Cars are scary.)
Its chassis code is W20, and was produced in the US from 1991 (after skipping a model year). It had smoother lines, a more rounded appearance, and it was larger and heavier than its predecessor—but sexier.
It could be had with two engine options: a naturally aspirated 2.2-liter 4-cylinder engine (SW21) that produced 130 horsepower and 145 lb-ft of torque, and a turbocharged version (SW22) that produced 200 horsepower and 200 lb-ft of torque. There were even folks that would swap in the six-cylinder engine from a Toyota Camry that would yield close to 300hp and INSANE reliability.
The second-generation MR2 also featured improved suspension and handling, making it a popular choice among sports car enthusiasts.
Despite its many strengths, the MR2 faced declining sales towards the end of its production run, and it was ultimately discontinued in 1995. See, looks aren't everything—but they are something.
Third Generation – MKIII (ZZW30: 2000-2005)
The third-generation Toyota MR2, also known as the MR2 Spyder or MR-S, was the youngest child that had to stay at home and help with the farm. (I'm sending it) While big sisters AW11 and SW20 were out fricken partying with their friends, the MR-S was just a baby.
It was sold in the US from 2000 to 2005, and featured a mid-engine, rear-wheel-drive layout, and a convertible soft top—but for some reason, it never really sold that well. Read: Miata.
It had all the right ingredients: a 1.8-liter, 4-cylinder engine that produced 138 horsepower and 125 lb-ft of torque paired with a 5-speed manual or a 6-speed sequential manual transmission.
Despite being smaller and less potent than its predecessor, the MR2 Spyder was praised for its agile handling and fun-to-drive nature. Nonetheless, it was discontinued in 2005, relegated to unenthusiastic "huhs" and "hmms" by dudes that "know cars". The upside is you can still find this third-gen for almost nothing on the used market.
The MR2 continued to be sold in Japan and Europe up until it was permanently discontinued in 2007.
Why Was the MR2 Discontinued?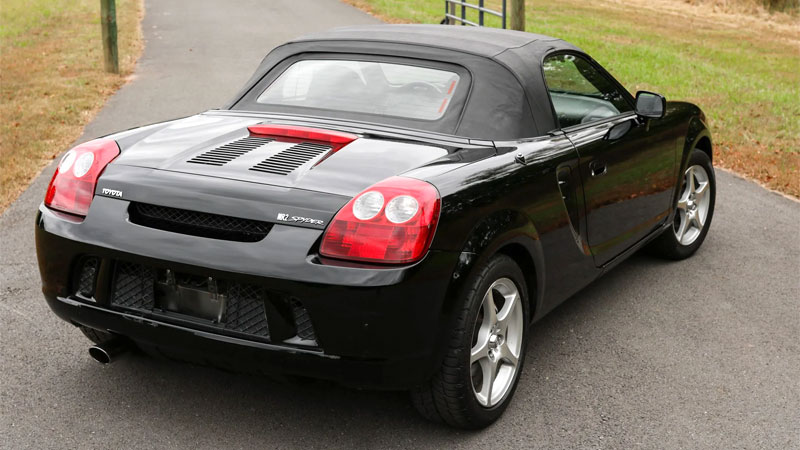 As with all truly great things, they eventually come to pass. The same goes for the MR2, which was discontinued for several reasons.
One of the main factors was declining sales. The early 2000s was a crowded roadster market, and the MR2 faced tough competition from other popular models like the Mazda MX-5 Miata and Honda S2000.
Additionally, Toyota shifted its focus towards more practical and family-oriented vehicles, like SUVs and crossovers, which were more profitable for the company. THANK GOD THEY SWITCHED BACK IN 2015! RIP Shoichiro Toyoda.
Finally, the MR2 faced increasing pressure to meet more stringent emissions and safety regulations, which made it more difficult and expensive to produce. These factors contributed to the decision to discontinue the MR2.
To me, even though any loss of any sports car is sad, I'm glad they stopped the MR2 while they were somewhat ahead. Who knows? If they hadn't, we might not have the FR-S, Supra, GR Corolla, or TRD trucks!
See Also – The History of the Pontiac Aztek
Common Problems With the Toyota MR2
Now, even though it is a Toyota, it's not without its faults. Here are some common issues with the MR2, organized by generation, because here at Auto Trends, we're a tight ship. So tight that we don't even know what a disjointed article looks like. Because we're organized:
First Generation (1985-1989):
Issues with the electronic fuel injection (EFI) system, such as airflow meter failure or fuel injector leaks.
Oil leaks, particularly from the valve cover gasket or oil pan.
Timing belt failure, which can cause extensive damage to the engine (always check the timing belt on any used MR2 you're looking to buy)
Second Generation (1991-1995):
Cooling system problems, including radiator leaks, overheating, and water pump failure.
Oil consumption can be caused by worn piston rings or valve guides.
Turbocharger failure, which is common in turbocharged models and can be caused by inadequate lubrication or worn bearings. (Please remember that turbos are also fun)
Third Generation (2000-2005):
Pre-cat failure, which can cause engine damage due to broken pieces entering the engine.
Clutch problems, such as premature wear or failure.
Suspension issues, including worn bushings and ball joints.
It's worth noting that not all MR2s will experience these problems, and regular maintenance can help prevent many of them from occurring.
So what do you think? Is the Toyota MR2 the vintage, pop-up headlight icon you've been fiending for? Or, is it just a Corolla with an engine in the middle?
The world may never know… except you do, because you just read this article.
I'll see myself out.
Latest posts by Al Seizovic
(see all)