If your credit is bad, then it may seem that a new or use car loan is not within your reach. After all, when credit was tightened following the 2008 financial crisis, lenders began to avoid writing loans to people with bad credit. The good news is that credit has loosened in recent years and a host of lenders may be willing to extend a loan to you. If you have a steady source of income and the ability to make payments, you may be able to secure a loan for a new or used car.
1. Know how your credit measures up.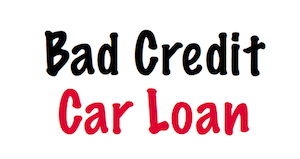 You may think that you have bad credit, but you should confirm this first. The three major credit bureaus — TransUnion, Experian and Equifax — keep records about your credit, information that isn't always correct. Collectively, these companies manage a AnnualCreditReport.com, a website that entitles you to obtain your credit reports once annually for free. Order your reports for your review through this website only.
2. Review your credit history.
Mistakes or information that is outdated on your report can lower your score. According to the Federal Reserve, stale-account errors are common and can adversely impact your credit. Fix these problems first by following each company's instructions on how to have your credit reports updated. Bureaus have 30 business days to update their records, otherwise the information must be removed from your credit report. A corrected credit report will be issued at no charge to you.
3. Know your credit score.
Once the credit bureaus have updated their records, you should retrieve your credit score. This three-digit score can be purchased from MyFico.com or you can visit CreditKarma.com to obtain your TransRisk score for free, a number that is similar to other scores used by creditors. A credit score of at least 700 points "reflects good credit management," according to Experian. A score that is below 600 can put you in sub-prime lending or bad credit category, with only select lenders available to write a loan.
4. Apply for credit.
Visit your bank or credit loan and speak to a lending officer about a new car or used car loan. Find out how much you can borrow and what the terms the car loan will be. If you are turned down for credit, apply for loans elsewhere. Multiple credit requests within a month's time are treated as one request and will affect your credit score only slightly. You can find lenders that specialize in helping bad credit borrowers by searching Google for "bad credit car loans" and checking the results. Car dealers may also be willing to arrange financing for you too.
Credit Considerations
Consumers with bad credit can obtain a car loan and usually without a co-signer. If someone agrees to co-sign your loan, it won't help your credit, but a loan you take out on your own and pay back on time most certainly can.