The US economy may have contracted in the fourth quarter of 2012, but the good news for the start of this year is once again coming from the auto industry. Data supplied by Autodata Corp. shows that US sales for Jan. 2013 rose by 14.2 percent, beating analyst expectations.
Big 6 Gain
January light-vehicle sales of 1,043,103 units compared to 913,287 vehicles sold in Jan. 2012. Among major manufacturers Toyota led the rise with a 26.6 percent gain followed by Ford at 21.7 percent, Chrysler by 16.4 percent and GM at 15.9 percent. Honda finished up by 12.8 percent and Nissan registered a 2 percent increase month over month.
Toyotas surge was apparent across the board with its hybrid sales up by 45.4 percent. Specifically, its Prius family recorded 15,772 units sold, an increase of 36.5 percent. Its Camry sales approached 32,000 units while its Corolla sales neared 24,000 units for the month. Toyota brand sales were up by 26.1 percent, Scion surged by 38.4 percent and Lexus sales jumped by 32.1 percent.
The sales pace we saw in the fourth quarter of last year rolled into January, exceeding our expectations for the industry," said Bill Fay, Toyota Division group vice president and general manager, Toyota Motor Sales, U.S.A., Inc. "Toyota started the year off strong, with total sales up over 26 percent, more than double the industry average. With the 2013 Avalon and 2013 RAV4 off to a great start, our focus remains firmly on new products and taking care of our customers.
Ford recorded its best Jan. in seven years. Ford brand sales were up 23.3 percent while Lincoln sales dropped by 18.2 percent. Ford noted that its luxury brand was hampered by limited availability of its all-new MKZ sedan. Big gainers for Ford included its F-Series trucks, up by 21.7 percent, and its Fusion sedan, up by 64.5 percent on the strength of 22,399 units sold.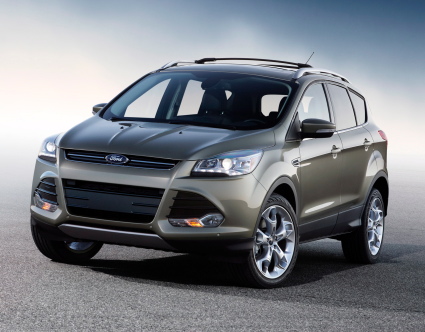 Chrysler Canada Tops
Chrysler sales continue to climb with the automaker registering its 34th consecutive month of year-over-year sales improvement. Chrysler also says that it was the top-selling automaker in Canada in Jan. Jeep sales fell by four percent as the absence of its Liberty SUV has been felt. Nevertheless, Jeep Compass sales were up by 33 percent. Other strong sellers for Chrysler included the Fiat 500, its Ram truck line, Dodge Avenger and Dodge Challenger.
In recent months GM has lagged the industry, but for Jan. it beat the average. Cadillac led the four-brand surge, with sales increasing by 47 percent. Buick followed with a 31.9 percent increase followed by GMC at 23.4 percent. Chevrolet sales rose by 10.9 percent. Big sellers for GM included its full-size Chevrolet and GMC pickup trucks, the Cadillac ATS and the Buick Enclave.
"The year is off to a very good start for General Motors," said Kurt McNeil, vice president of U.S. sales operations. "There's a sense of optimism among our dealers that only comes when you pair a growing economy with great new products. We started to see the benefits in 2012 with vehicles like the Chevrolet Sonic, Cadillac ATS and Buick Verano. Now in 2013, we're entering the sweet spot of our product plan in a growing economy."
Honda and Nissan
Honda sales rose on the strength of its all-new Accord, selling just shy of 24,000 units for the month or up by approximately 10,000 Accords sold in Jan. 2012. Crosstour and Pilot sales also fueled brand growth for the month. Acura RLX sales by 4.1 percent as the brand awaits the release of its all-new RLX flagship sedan.
Acura's newest products continue to drive our sales momentum as we begin a new year, said Jeff Conrad, vice president of Acura Sales. With the positive reception of the all-new Acura MDX Prototype in Detroit, and the upcoming launch of our new flagship RLX sedan, Acura is poised for even greater success in 2013.
Nissan brand sales rose by 1.8 percent while Infiniti sales increased by 4.9 percent. Contributing to Nissan's rise were sales of it Pathfinder, Sentra and Versa models. For Infiniti, its sales increased on the strength of its QX56 full-size SUV.
The Rest
e up by 31.7 percent and Jaguar LandRover up by 24.8 percent. Subaru sales rose by 21.3 percent, while Daimler was up by 10.7 percent. Volkswagen sales increased by 7.1 percent while BMW increased by 2.3 percent. Hyundai was up 2.4 percent while Kia sales rose by 2.2 percent. Mitsubishi and Mazda sales were down, while Volvo finished up by 9.3 percent.
Will the sales surge continue for 2013? Given that past predictions have come in under market realities, they just may. Pent up demand is still a big factor as the average age of a car on our roads is about 11 years old. R. L. Polk & Co., for instance, has predicted sales of 15.3 million units for 2013, for what should be the fourth consecutive year of year over year auto trends growth.
---
See Also — Shining Stars to Ramp Up Production