The chief executive of North Americas largest motoring club testified before Congress on Tuesday, asking members of the House Committee on Science, Space and Technology Subcomitteee on Environment to suspend the sale of E15 fuel. That fuel, comprised of 15 percent ethanol and 85 percent straight gasoline, may harm cars. in his testimony, CEO Robert Darbelnet cited the lack of consumer protections in place and called for additional testing by the National Academy of Sciences.
EPA Approval
AAA's intervention follows the Environmental Protection Agency's decision to permit the sale of E15 fuel. Last November, AAA published a report noting that only 12 million of the more than 240 million registered light-duty vehicles in the United States have been engineered to take E15 fuel.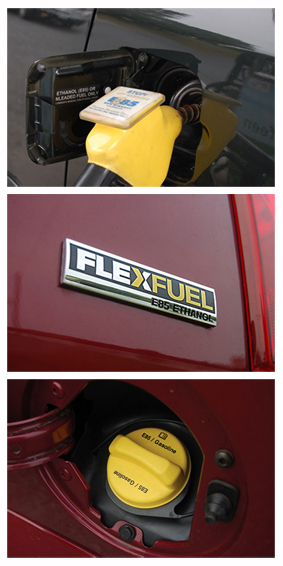 The organizations in-house engineering experts have claimed that using such fuel in most vehicles could speed up engine wear and failure, as well as damage fuel systems including accelerating fuel pump failure. Also, the check engine light could come on for no reason.
Notably, AAA also found that 95 percent of American consumers were unaware of E15 fuel and might mistakenly using this fuel when they should not. Several manufacturers including Toyota, Volkswagen, BMW, Chrysler and Nissan have come out and said that E15-related engine problems might not be covered by their warranties. Other car manufacturers have said that the fuel does not comply with owners manual requirements and could void warranty coverage.
Flex-Fuel Vehicles
Owners of current flex-fuel capable vehicles can use E15 without incident. Certain other vehicles including Porsches from 2001 model year on and newer GM vehicles also can handle the fuel. The Ford Motor Company says that all 2013 model-year Ford vehicles are E15 capable.
Most of the gasoline that consumers buy today is E10 fuel or what can be found in 90 percent of the fuel blends sold in America. That blend does not cause engine failure nor fuel line problems.
Ethanol Coalition Position
AAA's position is in stark contrast to the American Coalition for Ethanol, the ethanol lobby that has been pushing for E15 acceptance. The organization sent a letter to the Environment Committee, disputing the Coordinating Research Councils findings, the same tests the AAA has cited. ACE insists that the fuel is safe following rigorous EPA testing and scientific data.
That AAA is speaking out against E15 underscores its commitment to its 53 million members and the driving public in general. In a radio interview shortly before giving his testimony, Darbelnet explained to Blog Talk Radio listeners that AAA wanted to make sure that every American motorist is aware of the risk that E15 presents, so that we can minimize the likelihood of people being stranded at the road side or experiencing unnecessary engine repairs due to misfueling.
Consumer Awareness
Darbelnet noted that AAA will support E15 fuel provided that consumers are aware of the possible problems and once manufacturers adjust their fleets to accommodate the fuel. Still, there will always be cars on the road that cannot handle the higher ethanol blend, therefore support from the motor club will probably be held in reserve for now.
AAA and the ethanol lobby are in agreement about a few things: ethanol blends support American jobs and also reduce our nations dependence on foreign sources of oil. Both organizations also contend that such fuels save Americans money, but judging by current fuel pump prices and the much lower mileage estimates of E85-fueled vehicles, those savings quickly evaporate.
---
See Also — Rebates For Buying, Using An E85 Vehicle
Robert Darbelnet photo courtesy of AAA.