Auto Industry: It is halftime, baby. Auto sales for June 2013 are in and the news is very good nearly across the board. Last month, pickup truck sales helped carry GM, Ford and Chrysler, while Toyota, Nissan and Honda enjoyed strong demand for the usual car lines. In all, sales are on pace to top 16 million units this year, perhaps reaching the highest sales mark we've seen since 2007.
GM, Ford and Chrysler
GM reported its highest monthly sales totals since Sept. 2008, the very month that Lehman Bros. collapsed and the recession began to take hold, punishing the auto industry. Through the first six months of 2013, Cadillac sales rose by 33 percent, the fastest growth of all luxury brands. The Chevrolet Cruze had its best month ever with 32,871 units sold. Year to date, Chevrolet has sold 242,586 Silverado pickup trucks, for a 24.7 percent increase.
The Ford Motor Company continues to ride the crest of demand for its F-150 pickup truck. Sales were up by 23.6 percent in June and 367,486 units have been sold through the first half of the year. Fusion, Escape, Focus and Explorer round out the Ford brand top five with its hybrid C-MAX topping 20,000 units sold. The Lincoln brand fell slightly for the month and is down by 8.8 percent year to date.
"In June, we continued to see strong demand across the entire lineup," said Ken Czubay, Ford vice president, U.S. Marketing, Sales and Service. "We're particularly encouraged by strong retail share gains, especially in coastal markets, where the combination of great design and fuel economy is resonating with customers – including many buying a Ford for the first time."
Chrysler's sales streak continues as the company reported its 39th consecutive month of month-over-month sales increases. A number of models had record-selling months including three Jeep, two Dodge and the Ram Cargo Van C/V. Sales of the Chrysler 200 also broke a record. Chrysler Group sales, including Fiat, are up by 9 percent for the year.
Volkswagen, Kia and Hyundai
Volkswagen sales fell by 3.2 percent for June and the German automaker is now down by 0.9 percent
year to date. VW's drop can be attributed to discontinuing the Routan and customers waiting for the next generation Golf to roll out in early 2014.
Kia has finally plateaued after several years of strong sales and expanding market share. Despite the introduction of the full-size Kia Cadenza sedan this spring, sales fell by 1 percent in June and are down by 3.6 percent through June. Kia's cousin, Hyundai, continues to battle capacity constraints, but still managed to record its best June ever. The Elantra is now outselling the Hyundai Sonata, helping the larger of the two Korean manufacturers to stay on the plus side through June. YTD Hyundai sales are up by 1 percent.
"With all of our plants continuing to operate at maximum capacity, sales of the U.S.-built Elantra soared 26 percent over June 2012," said John Krafcik, president and CEO of Hyundai Motor America. "Our Hyundai Assurance Connected Care program, now free for three years on most Hyundai models, continues to draw customers to our website and showrooms."
Toyota, Nissan and Honda
Toyota has vowed to continue to defend its auto industry leading Camry from all comers and managed to ride 35,870 Camrys sold to an 11.9 percent increase for June. Camry sales, however, are still down by 2.3 percent for the year as sales of the Honda Accord, Nissan Altima and Ford Fusion strengthen.
Nissan brand sales rose for June while Infiniti fell, a trend that continues from earlier this year. The Nissan Altima continues to set the pace with Rogue and Sentra following. Infiniti is the midst of a product naming convention overhaul and is finding stiff competition from European manufacturers, from its Japanese competitors and from Cadillac. Year-to-date combined sales at up by 8.1 percent, however.
Honda counts the CR-V, Pilot and Odyssey as its "light trucks" and that segment saw an 17.6 percent increase for June. Honda Accord and Civic sales combined topped 60,000 units as sales rose by 16.9 percent for the month. Honda sales are now up 7.2 percent year to date.
"Honda was firing on all cylinders in June with the hot-selling Accord joined by the Fit, CR-V, Odyssey and Pilot all posting their best sales of the year," said John Mendel, executive vice president of sales at American Honda. "Our goal for 2013 is to be the leader in retail sales for all four of our highest volume models: Accord, Civic, CR-V and Odyssey. These solid results further showcase Honda's pure, market-driven momentum achieved by customers choosing Honda vehicles one at a time rather than relying on fleet sales to drive volume."
Best of the Rest
Subaru sales rose by 42 percent on the strength of Forester and Outback demand. To date, Subaru sales are up by 24.5 percent and the company is on track to crack 400,000 units sold for the first time.
"We are thrilled to close the first half of 2013 with such record numbers," said Thomas J. Doll, president and chief operating officer, Subaru of America, Inc. "Our products are being well-received and we are looking forward to adding Subaru's first-ever hybrid vehicle to our product line-up later this year."
BMW and Mercedes-Benz continue to duke it out with BMW Group sales up by 21.4 percent while Daimler sales rose by 7 percent. The BMW Group outsells Daimler, but Mercedes-Benz is currently ahead of BMW for top luxury marque.
Auto Industry: Through June 2013
GM remains the top-selling automaker in America, having sold 1.42 million units through June, just ahead of the Ford Motor Company at 1.289 million units. Toyota follows with 1.108 million units followed by Chrysler coming in at 908K. Honda at 742K units and Nissan at 624K unit round out the Big Six.
To date, Motor Intelligence reports 7,829,141 units sold, up from 7,272,160 for 2012. That represents a 7.7 percent increase. If the current auto trends hold we may see the 16 million unit mark cracked this year.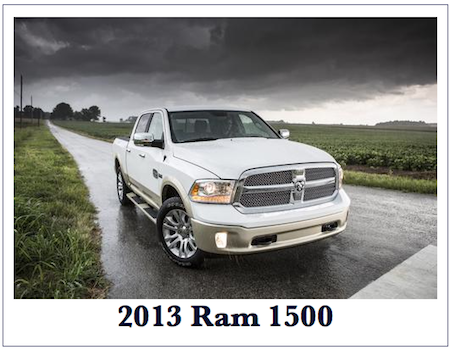 ---
See Also — Auto Industry Buzzword: Collaboration
Auto industry photos copyright of the respective car manufacturers.