Receiving and parsing statistical information is important to Auto Trends. That data helps us keep our finger on the pulse of industry changes including monthly sales data, manufacturer reports and government statistics, information we routinely share with our readership.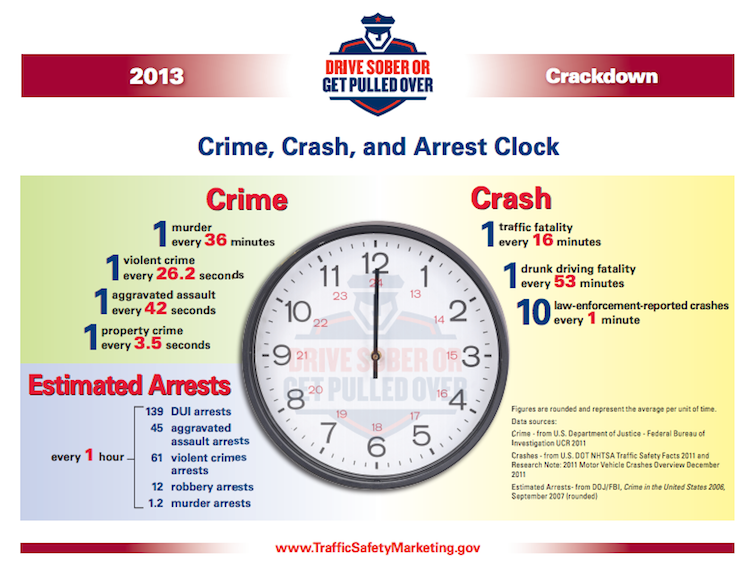 Drunk Driving Statistics
The National Highway Traffic Safety Administration (NHTSA) is one of our chief suppliers of data, including recently updated information we have received about drunk driving statistics. For 2011, the NHTSA says that 9,878 people lost their lives because of drunk driving, representing 31 percent of all deaths.
Like the data for all traffic fatalities, the number of people that have died because of drunk driving continues to fall. However, this scourge remains nearly constant in proportion to all deaths.
The NHTSA notes that America's collective attitude toward drunk driving has improved. Step back 40 years and you would find that nearly 8 percent of drivers admitted to driving while drunk. Today, that number is down to 2 percent as educational efforts, police enforcement and community involvement have made an impact.
Yet, we are still looking at nearly 10,000 deaths per year due to drunk driving. Where is the outrage? Unfortunately, it is not nearly strong or vocal enough.
---
See Also — How to Fight Back Against Drunk Drivers
---
Victims of Drunk Driving
As part of its latest awareness campaign, the NHTSA has focused on the people killed that were not drunk. In other words, the victims who died that weren't the drunk drivers themselves.
In 2011, the NHTSA said that 1,612 people were passengers in cars where the driver had a blood alcohol content (BAC) level of at least .08.
Another 1,049 were occupants of other vehicles. 710 people were pedestrians or bicyclists. And 91 were child passengers riding with the impaired driver.
Besides the human carnage and the emotional toll that drunk driving exacts, the US economy pays the price to the tune of $60 billion per year. The NHTSA cites numbers from an 11-year-old report: The Economic Impact of Motor Vehicle Crashes 2000, thus the cost has changed. The grief that is left behind has not.
NHTSA Awareness Campaigns
To keep the focus on drunk driving, the NHTSA runs media campaigns leading up to Labor Day and again for the winter holidays (i.e, Christmas and New Year's Day). The most recently ended campaign featured a "Crime, Crash, and Arrest Clock," as shown at the beginning of this article. (Ed. — to enlarge, right click the photo).
Of note, a murder is committed every 36 minutes, while a traffic fatality occurs every 16 minutes. A drunk driving fatality occurs every 53 minutes.
Numbers, of course, are empty without looking at the faces of those that have perished. It isn't our place to put pictures of the deceased on this site — likely, you have been directly impacted by this scourge or know someone who has.
Your Personal Initiative
As always, you can do your part by avoiding drinking and driving completely. If you are at a party and want to consume alcohol, then ride home with someone that refrained. Or, stay over.
You may think that you can "handle a few beers" but the officer in the sedan with the flashing blue lights sees that you can't. Avoid the risk, the fines, the embarrassment and the regrets by allowing someone else to drive when you know that you shouldn't.
---