Chrysler, Subaru, Mitsubishi and Nissan shine.
The car manufacturers couldn't wait to post July 2014 auto sales data. Chrysler, usually the first out of the gate, reported its numbers in the wee hours of the morning on Aug. 1. A number of other manufacturers also supplied data early, making it possible for analysts to accurately gauge the month's performance before lunch time on the east coast.
For the month, 1,435,342 light vehicles were sold, up 9.1 percent over the 1,315,194 sold in July 2013, according to Autodata Corp. Year to date, approximately 9.6 million units have been sold, up 5 percent over last year. Looking toward the end of the year, analysts believe that 16.5 million units will be sold, representing quite a turn around from the 10.4 million units sold in 2009 when the country was mired in a deep recession.
Big Six Automakers
Among the Big Six manufacturers (GM, Ford, Toyota, Chrysler, Honda and Nissan), Chrysler reported the largest increase as its sales volume rose by 19.7 percent. Nissan is up 12.6 percent for the year and with Honda sales down by 1.3 percent for 2014, there is a chance that Nissan will finally overtake its Japanese rival. If it does, then Nissan will get a huge monkey off of its back — Nissan outsells Honda worldwide, but has always trailed Honda stateside. It is doubtful that Honda will go down without a fight — we may see this conservative manufacturer increase its incentives, especially on its slower moving models.
For Chrysler, July 2014 was the 52nd consecutive month of month-over-month sales increases. More than four years have passed since Chrysler sales have reversed course and it is the Jeep brand that is leading the charge. Indeed, Jeep has broken sales records every month so far this year. The Grand Cherokee, Wrangler and Cherokee are its top models, each averaging approximately 15,000 units sold per month.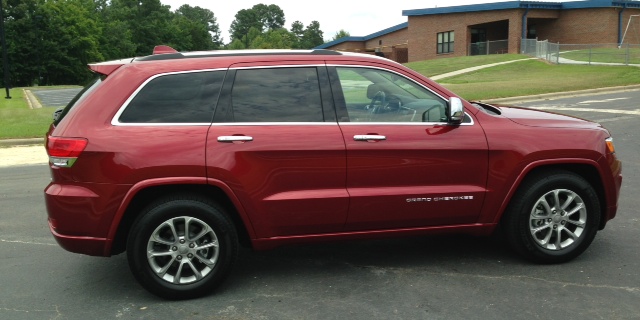 Nissan Moves Forward
Both Nissan Group brands — Nissan and Infiniti — are outperforming the market with Nissan up by 12.5 percent and Infiniti up by 13.1 percent for the year. The Altima, Rogue, Sentra and Versa contribute the lion's share of sales for Nissan. The all-new Q50 sedan is doing the heavy lifting and is already the best-selling Infiniti model.
Toyota sales are on the rise and the world's largest automaker by volume continues to narrow the space between it and No. 2 Ford in the US market. Camry sales are up by 8.3 percent according to Good Car Bad Car, selling nearly 40,000 units in July 2014. Toyota is also seeing even larger gains from its compact Corolla and RAV4 models, with each one on pace to enjoy a double-digit increase for the year. The RAV4 was all-new for 2013; the Corolla is all-new for 2014.
"Rising consumer confidence, coupled with momentum in the marketplace, boosted auto sales in July," said Bill Fay, Toyota division group vice president and general manager. "Led by an all-time record month for RAV4 and double-digit gains for both Camry and Corolla, Toyota was the number one retail brand."
Mitsubishi Strikes Back
Mitsubishi has been languishing in the domestic market for many years, but this year it is making a case for staying put as sales are up by 29 percent for the first seven months of the year. July 2014 sales data reveals strong growth from several vehicles including its Outlander and Lancer Evolution models. The tiny Mirage is all-new, providing the bulk of the brand's lift for the year.
Our year-to-date sales are up by nearly 29 percent over the same period from last year thanks to strong sales of our core models, said Don Swearingen, MMNA Executive Vice President of Sales. This sustained sales momentum is a good indicator for the brand as we begin to launch our 2015 models.
July 2014: Record Month for Subaru
The typical Subaru press release goes something like this: "Subaru reports best-ever sales month." In July 2014, the niche Japanese automaker sold 45,714 units, an all-time record. That represents 32 consecutive months of year-over-year gains, with the Forester and Outback contributing more than half of those sales. Strong growth is also now coming from the Legacy, as the all-new for 2015 edition boosts its sales.
"With the all-new Legacy and Outback models arriving at retailers and most of the model year change over complete, we can expect a very positive end to the year." said Jeffrey A. Walters, senior vice president of sales for Subaru of America, Inc..
The Ford F-Series remains by far and away the best selling model in America. Through July 2014, sales are up a slight 0.3 percent and may fall in August as the all-new 2015 model is being readied for production. The newest F-150 will feature an aluminum body as well as an optional 2.7-liter, V-6 EcoBoost engine.
The Market Through July 2014
GM continues to lead the US market as company sales are up by 3.5 percent for the year, despite a record number of recalls. Ford sales are off by 0.4 percent, but the big news continues to be Volkswagen as its sales continue to fall.
Through July 2014, Volkswagen sales are down by 6.4 percent. An all-new Golf is due in early 2015 while a much-needed midsize SUV does not arrive until late 2016. At least Audi and Porsche continue to do well, helping to lift Volkswagen Group sales overall.
Recent News and Stories
IIHS Small Car Ratings: Mini Cooper Countryman Shines
Cars and Coffee: Best Informal Meetup Ever
Porsche Cayenne: Generation Next
At a Glance: 2.7-liter Ford EcoBoost Engine
---
Photos copyright Auto Trends Magazine except for Mitsubishi Mirage and Volkswagen CrossBlue, manufacturer contributions both.