Hyundai has its own three-row utility vehicle for your consideration. The Santa Fe is sold in Sport and standard editions, with the latter competing against seven-passenger models from Toyota, GMC, Ford and others. The Veracruz is no more, but its replacement shouldn't be overlooked.
Major car manufacturers are very careful when it comes to managing the many niches that they are involved in. These days, automakers are keeping tabs on waxing consumer interest in utility vehicles and are responding by bringing to the market fresh styles while also entering new segments.
Hyundai has been a utility vehicle contestant for some years, offering the compact Tucson, a midsize Santa Fe and the larger Veracruz to customers.
The Hyundai Veracruz had a respectable six-year model run from 2007 through 2012, but it was up against such industry stalwarts as the Chevrolet Traverse, Nissan Pathfinder, Ford Explorer, Honda Pilot and the Toyota Highlander. Clearly, the next generation model needed to make some improvements to gain traction in a competitive, midsize three-row utility vehicle segment.
2015 Santa Fe Limited Review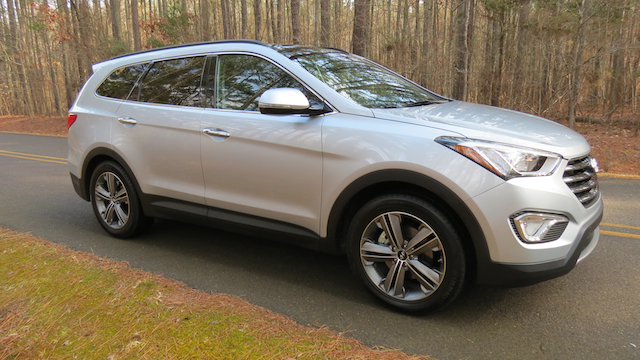 Instead of releasing a second-generation Veracruz, Hyundai updated its midsize model and renamed it the Santa Fe Sport. It then added approximately five inches between the wheels and nine inches overall to an extended wheelbase version and gave that vehicle the Santa Fe name.
In the process, Hyundai added a third row to increase seating capacity to as many as seven people.
The move was an unusual one, but it allowed Hyundai to compete with other three-row SUVs. Like the Santa Fe Sport, front-wheel drive is standard and all-wheel drive is optional. Unlike the Sport, the larger Santa Fe is powered by a 3.3-liter V-6 engine. That motor is paired with a six-speed automatic transmission.
As sometimes happens, I had both the standard and extended wheelbase Santa Fe about six weeks apart. Although the two versions are more alike than they are different, the extended wheelbase model has a more upscale presentation. I credit the optional Ultimate package ($4,650) for delivering that experience.
Indeed, the Ultimate package increases the base $34,250 price for the Limited edition to $39,945 (the based GLS retails from $30,150). Choose the available all-wheel drive and you will add $1,750 to your price.
Premium Touch: Ultimate Package
Back to the Ultimate package — this option gives the Santa Fe a truly premium ambience as it brings in high-intensity definition headlamps, LED tail lights, ventilated front seats, heated rear seats, a heated steering wheel, premium door sills, a 115-volt outlet, and rear assist parking sensors.
However, the piece de resistance is the panoramic sunroof, what extends from front to back with barely a foot between the windshield and lift gate remaining.
Let me just say that if you're considering an upgrade the sunroof alone is worth it. And if that isn't enough, a navigation system with an 8-inch color screen and a 12-speaker, 550-watt Infinity Logic audio system should cinch the deal.
There is one big difference between the standard GLS edition and the Limited: a passenger seat. Concerning this, you lose one seat placement with the Limited as the split folding bench seat is replaced by a pair of Captain's chairs. And those chairs are comfortable, nearly matching the front bucket seats in support.
The foldable armrests and reclining features of the Captain's chairs are welcome too. One more point: access to the rear seat is easier as you can walk between the chairs to reach that compartment. The only demerit here is that the middle chairs fold, but they don't flip forward.
Sizable and Sumptuous Cabin
Move behind the wheel of the Hyundai Santa Fe and you will take in an instrument display featuring a pair of analog displays — tachometer and speedometer — with a digital driver's information centered betwixt the two.
You get a tilt and telescopic steering column and steering wheel-mounted switches to control the display, along with additional switches for cruise control, audio and navigation.
The center console is sensibly designed, one punctuated by a color display for managing audio, climate control and navigation systems. If you have followed Auto Trends reviews in the past, you know that I have shared your angst about navigation systems.
However, Hyundai has one of the better ones available, as it understands most voice commands, delivers logical directions and provides access to SiriusXM satellite radio.
Moreover, the included BlueLink system makes it possible to sync your smartphone, receive monthly vehicle health reports, call for emergency help, and if you can't make the call yourself 9-1-1 will be summoned for you automatically.
Just underneath the touchscreen display are buttons and knobs to control the system manually, along with a generously sized dial to heat or cool the cabin, switches to heat or cool your side of the cabin, and a large open storage area for your smartphone with the ancillary connectivity points.
Between the front seats is the transmission stick, itself surrounded by switches to heat or cool the front seats.
Two cup holders are found just fore of the center storage compartment, itself a deep unit large enough to hold a camera case or a small purse. Also, a fairly substantial glove box, in-door storage compartments with bottle holders and a small storage area behind the rear seat are among the Santa Fe's storage features.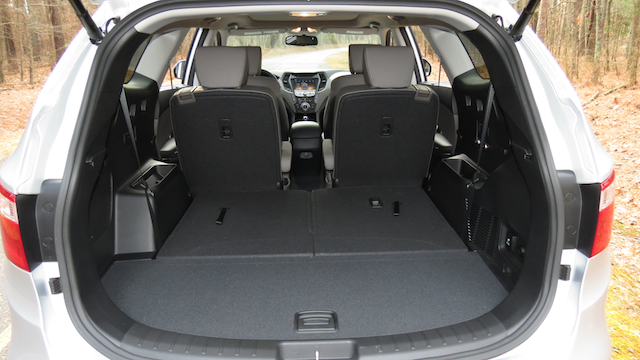 That small storage area measures just 13.5 cubic feet compared to 35.4 cubic feet in the Santa Fe Sport. That represents the trade off you get by adding a third row. Nevertheless, you can fold both the second and third row seats to gain 80 cubic feet of storage space and that beats the 71.5 cubic feet for the smaller model.
The rear compartment has under floor storage and a 115-volt outlet is also present. The spare tire is located underneath the vehicle.
On the Road
It is a good thing that Hyundai offers an upgraded engine with the larger model. The 3.3-liter V-6 also powers the Hyundai Azera, a large sedan that sits between the Sonata and Genesis in Hyundai's car portfolio.
Push the start button and the V-6 comes to life and shifts smoothly through all six forward gears. The test model was the front-wheel drive version and, yes, torque steer (understeer) is present. That means if torque vectoring control is present, I did not sense it.
So, go with my favorite work around here: choose the all-wheel drive edition or get used to holding on to the steering wheel whenever the full measure of 290 horses is released.
Hyundai says that the latest Santa Fe has an improved suspension system with "revised rear suspension geometry and bushings to increase lateral stiffness." Translated simply: you are less likely to wallow on twists and turns than before. Enjoy the soft ride, quiet interior and good handling that goes with this vehicle too.
Should you opt for the Hyundai Santa Fe? You just might if you want what is likely the best combination of value, premium touches and warranty coverage in the business. I am not making this statement to impugn the Santa Fe's competitors, rather to say that Hyundai makes a compelling reason for you to consider its largest SUV offering.
2015 Hyundai Santa Fe Limited Specifications
Sticker price from $34,250
Price as tested: $39,945 (estimated)
Seats 6 occupants
3.3-liter 24-valve V-6 gasoline engine
290 horsepower @ 6,400 rpm
252 foot-pounds of torque @ 5,200 rpm
3.62 inches bore by 3.30 inches stroke
Engine compression ratio: 11.5-to-1
6-speed automatic transmission
Wheelbase: 110.2 inches
Length: 193.1 inches
Width: 74.2 inches
Height: 66.5 inches
Passenger volume: 146.6 cubic feet
Storage volume: 13.5/40.9/80 cubic feet
Towing capacity: 2,000 to 5,000 pounds
EPA: 17 mpg city, 23 mpg highway
Regular grade gasoline
Fuel tank: 18.8 gallons
Curb weight: From 3,904 pounds
IIHS safety rating: Good — moderate overlap front, side, roof strength, and head restraints & seats
Limited vehicle warranty: 5 years/60,000 miles
Powertrain warranty: 10 years/100,000 miles
Corrosion warranty: 7 years/100K miles
Vehicle assembly: West Point, Georgia
---
Hyundai Santa Fe photos copyright Auto Trends Magazine.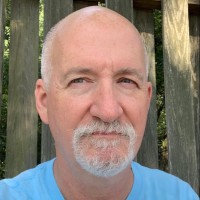 Latest posts by Matthew Keegan
(see all)