A well-rounded hot hatch that sets the standard for performance and handling in its segment.
---
Car models are few as manufacturers prioritize utility vehicles and pickup trucks. Nearly a half century has passed since the Golf replaced the legendary Beetle, delivering a much more composed model that's also routinely updated.
However, the standard Volkswagen Golf is no longer available in the U.S. All that remains are a pair of performance variants, the GTI and R, delivering the last vestiges of traditional performance for enthusiasts.
See Also – 2023 Volkswagen ID.4 Review
2023 Volkswagen Golf R Review
The GTI comes in four trims with prices ranging from $30,530 to $39,070. Volkswagen offers the Golf R in Standard ($44,740) and 20th Anniversary ($45,390) trims. Add $1,095 for the destination charge.
The focus of this review is on the Golf R, a subcompact hatchback with room for five. This model comes with a turbocharged engine and all-wheel drive. Customers have a choice of a 6-speed manual gearbox or a 7-speed dual-clutch transmission ($800 upgrade).
Our test model came with the DCT. We'll mention the GTI where appropriate.
Exterior Highlights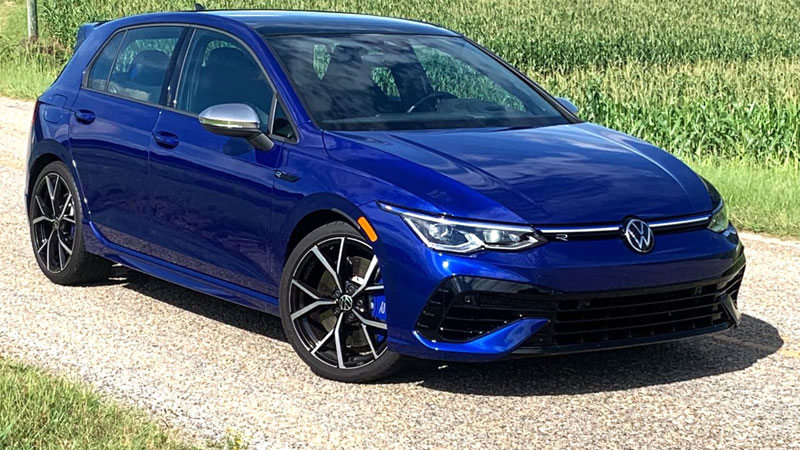 Volkswagen introduced the eighth iteration of the Golf in the 2022 model year. While the current version retains its predecessor's 103.5-inch wheelbase, it extends a bit in length and has a subtly lowered stance.
Over the years, updates to this model have been more about refinement than radical transformation. Nevertheless, contemporary elements like LED lighting have been added. Notably, the Golf R is enhanced with a unique illuminated crossbar, giving it a distinct appearance.
The R-design front bumper boasts dual air intakes highlighted with a shiny black finish. These smoothly merge into a central gap, not only enhancing the car's assertive expression but also optimizing air circulation and augmenting downforce.
Vivid, body-matching side trims make the car appear closer to the road. The Golf R sports 19-inch dark-hued alloy rims, paired with high-performance summer tires.
Interior Highlights
The Golf R boasts an interior that is streamlined and neat. Despite its upscale price tag, the cabin doesn't flaunt luxury.
The front seats offer both heating and ventilation, and come with a 12-way power adjustment for the driver. The back outboard seats are heated too. All seating surfaces are adorned with Nappa leather, and the front seats are accentuated by a blue R emblem on their backrests.
These seats provide commendable support, enhanced by fixed bolsters. However, there's no driver seat extender available, which could have been a boon for lengthier journeys.
Additionally, the car includes a heated steering wheel and tri-zone climate control. Cargo space in the Golf R is a generous 19.9 cubic feet, which expands to 34.5 cubic feet when the rear seat is folded down.
Safety and Technology
Many leading manufacturers provide user-friendly infotainment systems. In its latest iteration, the Golf has made its interface more concise, consolidating most cabin controls either on the display or directly below it.
Adjusting climate control or audio volume now requires the use of a touch-sensitive pad. This new method does require some adaptation and can potentially be more distracting, which isn't ideal while driving.
We're of the opinion that dedicating screens exclusively for infotainment is the optimal design. Moreover, using tactile knobs for managing climate and other in-cabin functions remains a tried-and-true method that many find intuitive.
On the flip side, we are fans of the Volkswagen Digital Cockpit. This one features a 10.25-inch screen with three views, including navigation.
Driving enthusiasts may find displaying the rev counter, engine boost pressure, and tachometer front and center to their liking. A G-meter, torque distributor for AWD, and a lap timer are track star tools.
Volkswagen equips the Golf R with a 9-speaker Harman/Kardon audio system. Smartphone connectivity, four USB ports, and a charging pad are included.
On the safety front, VW's IQ.DRIVE bundle comes standard. This package includes lane assist, blind-spot monitoring with rear cross-traffic alert, and adaptive cruise control. Front collision avoidance, automatic emergency braking, and park distance control are among the other features.
Performance
Think "Golf" and Volkswagen wants you to consider performance. Both the GTI and R come with a 2.0-liter turbocharged four-cylinder engine.
The GTI version delivers 241 horsepower and 273 pound-feet of torque and sends power to the front wheels. A 6-speed manual transmission comes standard; a 7-speed dual-clutch transmission is optional.
For the Golf R, the same engine is tweaked to deliver upwards of 315 horsepower and 295 pound-feet of torque with premium fuel.
The same transmissions found in the GTI are offered here. A stark difference, though, between the models is the Golf R comes with all-wheel drive along with rear-axle torque vectoring. Not only is up to 50 percent of torque sent to the rear wheels, but 100 percent of that torque may travel to an individual wheel for enhanced stability.
Driving Highlights
It seemed appropriate for the Volkswagen Golf R to come after the Acura Integra Type S in our review lineup. The pool of performance-focused vehicles is dwindling, and we generally don't count electric vehicles in that category.
For die-hard enthusiasts, the sound of a revving engine, the tactile shifts of the gearbox, and the deep rumble of the exhaust are cherished experiences they're not ready to trade in for the surge of electric vehicles.
The VW and Acura remain true-blue performers with the Subaru WRX STI, Toyota GR Corolla, and the Honda Civic Type R also among them.
Our Golf R test model came with the dual-clutch automatic instead of the 6-speed manual. While we prefer three-pedal foot action over any automatic, the DCT makes a compelling case for itself.
Indeed, there is no faster way to shift than with the DCT. Instead of the shift knob, though, you'll utilize a steering wheel-mounted paddle shifters for a more engaging driving experience.
The Driving Mode Selection offers six options: "Comfort," "Sport," "Race," "Drift," "Special," and "Custom." Each mode alters steering and throttle, with Custom allowing personalization.
For cars with the DSG transmission, sportier modes offer dynamic shifts. In Comfort mode, shifting is smooth and steering is lighter. The Golf R is suitable for daily driving and high-performance laps.
The Volkswagen Group is comprised of many brands, including the eponymous Volkswagen marque. Audi is VW's nearest relation and since Audi enthusiasts won't admit, Volkswagen's 4Motion all-wheel-drive system is a lot like Audi's legendary Quattro arrangement.
There isn't enough space to compare the two, but in Golf R guise, the 4Motion seems identical. Indeed, when operating on twisty roads, the system nearly eliminates understeer and oversteer, keeping this hot hatch deliciously planted. And that's a good thing as there is copious amounts of power on hand.
With the DCT, we recommend operating in sport mode and putting the paddle shifters to work. The response is lightning fast, quicker than what a human can accomplish with the manual gearbox.
Nevertheless, we're traditionalists here – with the manual available, we'd take the marginally slower response and the steering dynamics that go with it.
See Also – 2022 Audi A3 Review
Volkswagen Golf R Considerations
The Volkswagen Golf R may be a bit too specialized for enthusiasts, particularly those seeking an affordable entry into the performance realm. This is where the GTI excels.
However, if you value superior handling and crave the most powerful model available, the Golf R is a strong contender. Just be aware that it comes with a premium of around $15,000 compared to a standard GTI.
---
Interior photos courtesy of Volkswagen. All other photos copyright Auto Trends Magazine. All rights reserved.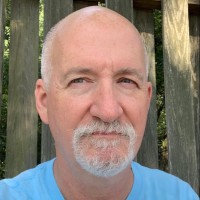 Latest posts by Matthew Keegan
(see all)