A luxury sport coupe not to be overlooked.
---
Quite frankly, the Infiniti Q60 had slipped quietly below my radar. Somewhere in the move from G to Q in the updated Infiniti naming convention, this robust medium range luxury coupe had been nearly forgotten until a Q60S edition showed up late last month as my weekly driver.
Immediately, I recognized the one-time G37 Coupe and remembered the very good reputation that had preceded the earlier model. These days it is all about the Q60, a model whose competitors include the BMW 4-Series, Lexus IS Series, Mercedes-Benz C-Class, Cadillac ATS coupe and the Audi A5. It is the lone coupe sold by Infiniti and comes with a convertible variant.
2015 Infiniti Q60S Review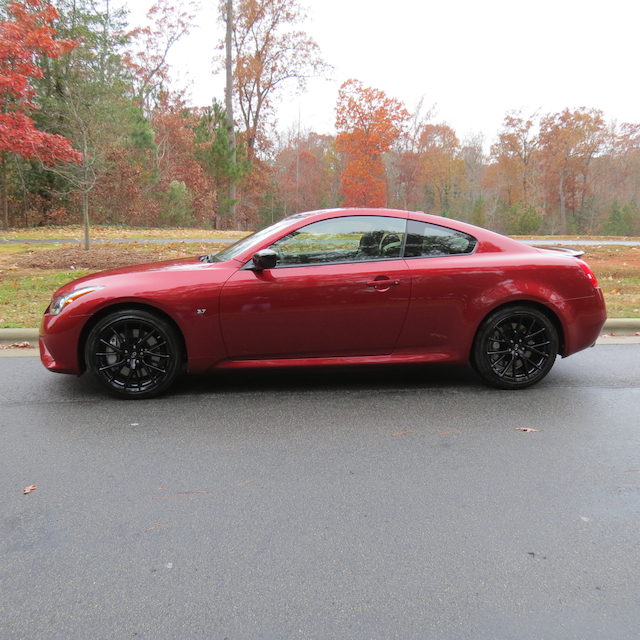 As with the previous G37, this rear-wheel drive coupe is powered by a 3.7-liter V-6 engine making 330 horsepower, a 24-valve motor outfitted with a variable valve timing control system and variable valve event and lift technology, what optimizes the intake and exhaust valves for improved performance and efficiency.
As tested, the Infiniti Q60S was matched with a seven-speed automatic transmission and included steering column-mounted magnesium paddle shifters. A six-speed manual transmission is also available. Only one model, the Q60 Coupe AWD, offers all-wheel drive.
Strip away the refined, sporty Infiniti exterior and pull out the cabin and you're looking at a model that shares its platform and powertrain with the Nissan 370Z. And that is a very good thing as you get the bones of a sports car to power this entry-level luxury coupe.
In the Q60, Infiniti adds nearly a foot more room between the wheels and 16 inches overall. The width is nearly the same and the Infiniti measures nearly three inches taller than the Z. Its enlarged dimensions make room for a rear seat to create a 2+2 luxury sports coupe.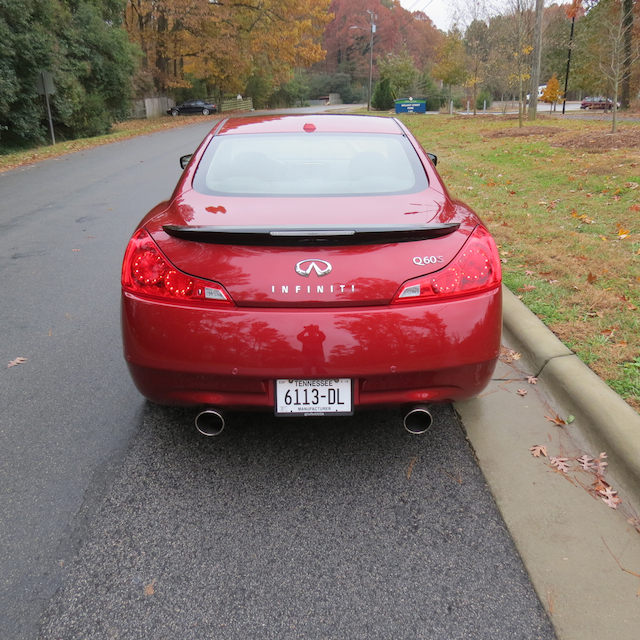 One look at the Q60 and you will behold a muscular coupe marked by its Midnight Black grille, black mirror covers, black wheels and black rear spoiler. Its lines are sleek, its shoulders powerful and the sloping roofline eases to the rear quarter with its large, wrap around tail lights and dual chrome exhaust tips.
You might consider this Infiniti an upscale alternative to the Ford Mustang, Chevrolet Camaro and Dodge Challenger. Buyers might shop the Hyundai Genesis Coupe too.
Room for Four, Best for Two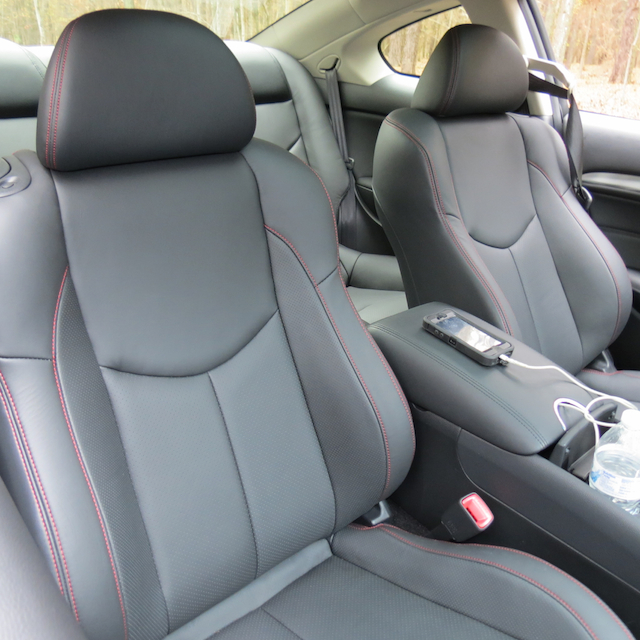 Inside, you get a cabin with seating for four, but best enjoyed by two. The rear seat offers token room, but to its credit Infiniti designed the front seats to move and tilt forward enough to squeeze even an adult-sized passenger into the rear.
Limited headroom and almost nonexistent legroom will have most people passing on that proposition. Besides, with just 7.4 cubic feet of trunk space, folding the rear seat down to gain additional storage space is a better approach to take.
There is no flat-bottomed steering wheel for the Q60S, but it is leather covered, has red stitching and comes with the requisite grips that this model demands and deserves. Steering wheel-mounted cruise and secondary audio controls are included.
The instrument panel features traditional analog displays for the tachometer (left) and the speedometer (right). A digital driver's information display is located between the two.
Firm, leather sport bucket seats with red stitching are up front. Both are well bolstered and provide very good back support and come with seat extenders.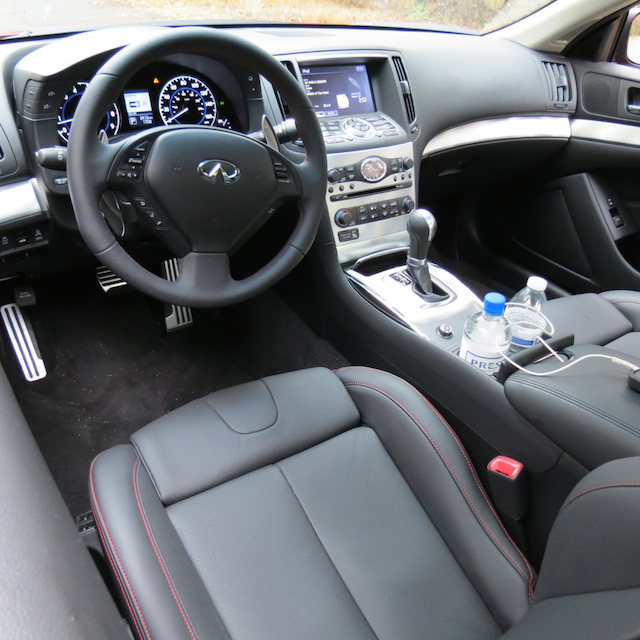 The center console features a color display at the top with switches and a control knob underneath. Easy to use, but a bit difficult to read — more than once I found my eyes studying the layout longer than I should have — maybe the next update will place it between the seats ala BMW, Jaguar and other luxury makes.
Anyway, my smartphone synched without drama and sat in the storage compartment within the arm rest. The rest of the console is composed of switches and knobs for the audio system and climate control; seat warmer buttons were found behind the transmission stick. This model also comes with two cup holders up front, two in the back and a pair of in-door bottle holders.
What I appreciate best about most any Infiniti are the uncomplicated cabins with driver controls sensibly placed and the modest use of technologies. Interiors are typically generously appointed with leather, aluminum or wood trim, and cleanly fitted. Aesthetically pleasing too with aluminum pedals and an available sunroof to boot.
On-Road Prowess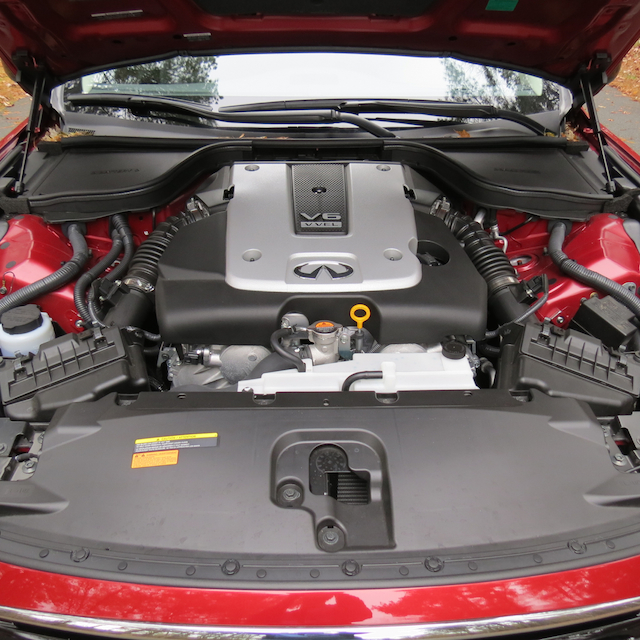 It is on the road where the Infiniti Q60S shines brightest. The seven-speed automatic is best enjoyed in manual mode with a quick shift of the transmission stick enabling paddle shift control. In its infinite wisdom, Infiniti thoughtfully fixes the paddle shifters to the steering column for a much more sensible placement.
I've long been annoyed by steering wheel-mounted paddle shifters that turn with the wheel and make for very awkward shifting when turning corners or handling certain sections on twisty roads.
That they're usually plastic, not magnesium, seems to underscore the careless consideration that some manufacturers make to only prove my point. Infiniti simply dispenses with that notion: the Q60 is a driver's car and you will know it the moment you slip behind the steering wheel to take control.
But be forewarned: where the Lexus IS (except for the F-Sport) comes mostly dressed for the part, the Q60S lives it.
The Infiniti receives high marks for all the important attributes of a driver's car. Its off-the-line acceleration is excellent as is its passing power. Steering is communicative and handling is superb: this coupe imbues much confidence on twisty roads, aggressively powering through curves with confidence and accuracy, bringing its 3,633-pound frame to a sure stop.
My favorite times with the Infiniti Q60S were on serpentine country roads in sport-mode and with paddle shifters at the ready. Turn off traction control and you'll feel the rear wheels slip underneath the coupe as you crush the accelerator — hang on, because you'll fishtail and you may lose directional control of the vehicle.
You'll also gain a greater sense of what this Infiniti is designed to do — unapologetically impart much driving pleasure. Turn off the audio system and take in its exhaust note — sweet!
If you're shopping for a Q60 edition and you demand an ultimate driving experience, then look for the "S" appellation. That's where a sport-tuned suspension, sport-tuned steering and sport braking take up residence. In my mind it is the only place where serious drivers will want to go.
Infiniti Q60S Pricing
Infiniti prices the 2015 Infiniti Q60 Coupe from $40,950 for the Journey edition. The AWD model starts at $42,600. You can also choose the 6MT edition ($46,050), Limited 6MT ($47,700) or the top-of-the-line Coupe Limited edition ($49,050).
It was a Limited edition with a trunk mat, trunk net and first aid kit package ($200) and illuminated kick plates ($370) offered as my test vehicle. The final price came in at $51,125.
The Q60 is the best entry-level coupe from Asia and matches up well against competition from Cadillac and Europe. Choose any Q60S edition and you'll get its full flavor, including 19-inch wheels, summer tires, a Bose audio system and navigation.
2015 Infiniti Q60S
Sticker price from $49,650
Price as tested: from $51,125
Seats 4 occupants
3.7-liter 24-valve V-6 gasoline engine
330 horsepower @ 7,000 rpm
270 foot-pounds of torque @ 5,200 rpm
3.76 inches bore by 3.39 inches stroke
Engine compression ratio: 11.0-to-1
7-speed automatic transmission
Wheelbase: 112..2 inches
Length: 183.7 inches
Width: 71.8 inches
Height: 54.9 inches
Passenger volume: 92.4 cubic feet
Storage volume: 7.4 cubic feet
Towing capacity: N/A
EPA: 19 mpg city, 27 mpg highway
Premium grade gasoline
Fuel tank: 20 gallons
Curb weight: From 3,633 pounds
IIHS safety rating: Not Rated
Limited vehicle warranty: 4 years/60,000 miles
Powertrain warranty: 6 years/70,000 miles
Corrosion warranty: 7 years, unlimited miles
Vehicle assembly: Tochigi, Japan
---
2015 Infiniti Q60S photos copyright Auto Trends Magazine.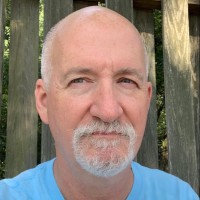 Latest posts by Matthew Keegan
(see all)