---
Chevrolet surprised us this year with a new engine for the Silverado and, no, it isn't the 3.0-liter inline-six turbo-diesel we've long expected. Yes, that compression-ignition engine is on its way, but it isn't due until this summer.
What Chevrolet rolled out with the all-new 2019 Silverado is a turbocharged gas engine displacing 2.7 liters. It sounds like a small-block V6, right? Well, it isn't. Instead, what parent GM developed for Chevy and GMC was a large-block inline-four. This engine is now an integral part of the Silverado's current five-strong engine family (including two versions of its venerable 5.3-liter V8).
One, two, three, and four…who could ask for anything more? Well, call me skeptical because I couldn't imagine anything less than six cylinders powering a full-size pickup truck. Even then, a V6 is usually reserved either for a work truck unless it is imbued with turbochargers to behave like a V8.
With four cylinders and a turbocharger, you have an engine that acts similar to a small V6. Or at least that's the thinking of some.
2019 Chevrolet Silverado: Turbo Four
GM supplied a 2019 Chevrolet Silverado LT four-wheel-drive double cab for my review. At first, I didn't know what was under the hood as I was eager to jump in and go to one of my favorite destinations to take photos. But soon, I heard an unusual whine coming from underneath the hood and quickly realized that the new gas engine was motivating the big truck.
And that fact led me to make it my Friday driver to the beach, a day trip my wife and I had planned. With an opportunity to put about 300 miles on the odometer and mostly highway miles at that, that trip would supply me with ample opportunity to gauge the engine's effectiveness.
Instead of my customary review of the Silverado (which you can read here), my thoughts here cover the new engine and its paired transmission.
---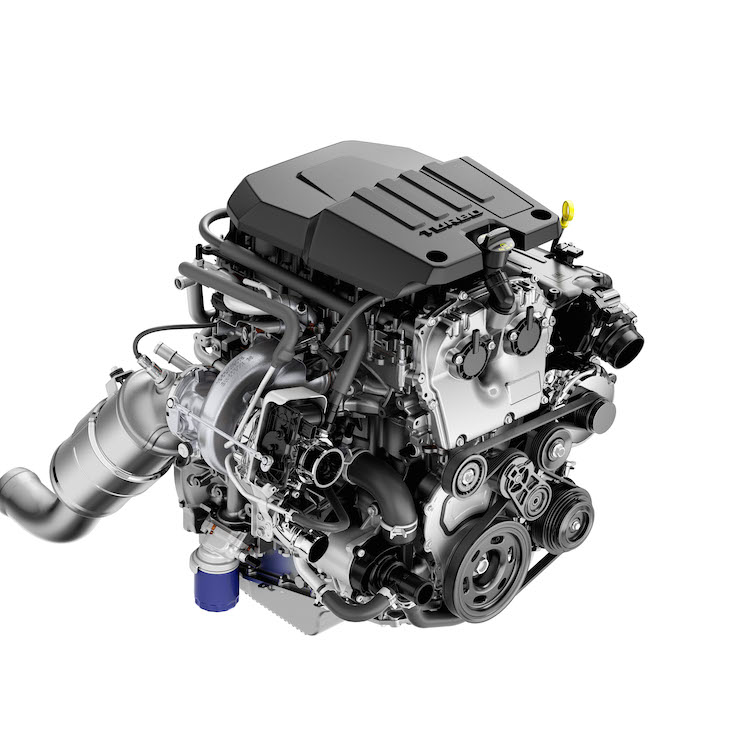 ---
Highlights of the Chevrolet Silverado's Turbo Four
The following are some of the main features of the turbo four:
1. It represents a clean-sheet design.
GM's new engine is a fresh design. It doesn't represent a cut down from an inline-six nor is it based on an existing four-cylinder architecture. GM says the engine was built specifically for trucks, particularly with the Chevy Silverado and GMC Sierra in mind.
Might we eventually see this engine in the Chevrolet Colorado and GMC Canyon midsize trucks? I suppose that's something under consideration. I could also see this engine as an integral part of GM's hybrid strategy, but we're not there yet.
2. There is lots of power at the ready.
The new engine produces 310 horsepower and 348 foot-pounds of torque. Compare these numbers with the V6 (285 hp & 305 torque), the 5.3L V8 (355 hp & 383 torque), and the 6.2L V8 (420 hp & 460 torque), and its power quotient is firmly in second place. Importantly, you're not seeing a big leap in power to the small block V8.
The turbo engine has a long piston stroke of 4.01 inches, which improves combustion and delivers a higher compression ratio. A longer stroke usually causes friction, but GM added an offset crankshaft to alleviate the problem. To handle the enormous pressure created by a turbo, the crankshaft and connecting rods are made of forged steel and the pistons are comprised of a durable aluminum alloy with a cast iron ring groove insert. The engine features an aluminum block and cylinder head. In other words, you have a modern designed engine.
3. It comes paired with an eight-speed automatic transmission.
GM uses a variety of automatic transmissions, including six, nine, and 10 forward gears. With the turbo four, you'll find an 8-speed automatic. Chevrolet utilizes active fuel management technology with the turbo as two of the cylinders shut down under light loads. So, just think of this: at certain times this big Chevy is motivated by just two cylinders!
This powertrain combination delivers an EPA-estimated 20 mpg in the city and 23 mpg on the highway for a combined 21 mpg. For four-wheel drive, each number falls by 1 mpg. On paper, the turbo is the most efficient gas engine in the Silverado, beating the small block V8 by 2 mpg and the V6 by 4 mpg.
4. It tows more than you might expect.
Big truck. Small engine. With this combination, you might not expect the turbo engine to have strong pulling power. You'd be partially correct in that assessment.
You can't get the turbo with the regular cab, but you will find it available with both the double and crew cabs. The double cab with the standard box and two-wheel drive has the highest trailer weight rating: 7,000 pounds. Choose the standard box with four-wheel drive and it is rated at 6,700 pounds.
Crew cab short or standard box models come in at 6,900 (2WD) and 6,700 (4WD) pounds, respectively. These numbers are just a few hundred pounds lower than the V6 (7,300 to 7,900 pounds).
---
---
On the Road
Under steady driving, the turbo-powered Silverado is quiet. But the moment you engage the accelerator pedal the turbo spools up and the noise level increases with it.
No, the inline-four doesn't produce a racket, but it does have a noticeable whine.
Press hard on the accelerator and every bit of this engine's power quickly becomes evident as the dual-volute turbo quickly spools (it features a pair of separate chambers with two exhaust gas inlets and two nozzles to drive the turbine). The RPM gauge pushes very close to redline territory, falling short by just a few hundred RPMs.
As the engine does its thing, the automatic transmission willingly joins in. This transmission shifts cleanly and not once does it hunt for gears. its the kind of drama-free reaction we want and, happily, it fully complies.
My off-road antics were limited to a two-mile stretch of dirt road. I switched to four-wheel-drive to manage the front wheels as I navigated one stretch of road that dipped and curved. The Silverado held ground, delivering the extra measure of assurance (and confidence) I wanted. Had an opportunity to travel off the beaten path presented itself, I would have felt confident pursuing that too.
---
---
The Verdict Is In
The turbocharged four-cylinder engine delivers mixed results. On the one hand, its power quotient is undeniably strong. The fast-spooling turbo essentially eliminates lag, enabling this engine to reach full power quickly. It's more powerful than the much larger V6 engine and that's a credit to GM's engineers.
On the other hand, the Silverado isn't nearly as efficient as you'd expect. Even with copious amounts of highway driving with cruise control engaged, I averaged about 20 mpg or 19.1 mpg for the entire time I drove this truck. So, whatever efficiencies are touted, they just did not materialize.
I know some people are concerned about the reliability and durability of the turbocharger, based in part on past experience. For instance, in the 1980s, we saw a number of cars outfitted with turbos and these didn't hold up under the stress. Fortunately, the technology has advanced tremendously since then as we're seeing a wider application of modern boosted engines than ever before. Witness the success Ford has had with its twin-turbo engines powering the F-150 — there haven't been any problems to speak of with these engines.
Another factor to consider is towing power. If your needs are relatively modest, then the boosted four should be up to the task. But keep in mind that if you regularly drive with a full payload (including passengers and bed gear) and tow, your fuel mileage will take a significant hit. That's why the small-block 5.3-liter V8 engine remains a favorite among Silverado and Sierra fans, a proven engine with strong towing capabilities, one designed to get the job done.
---
---
 2019 Chevrolet Silverado Turbo Four Specifications
---
Silverado LT Double Cab 2WD, price from $38,495 (plus $1,595 destination charge)
Price as tested: $49,365
Seats five or six
Engine: 2.7-liter turbo I4 gas
310 horsepower @ 5,600 RPM
348 foot-pounds of torque @ 1,500 RPM
8-speed automatic transmission
Wheelbase (inches): 147.4/5 (double); 147.4/5 or 157.0/1 (crew)
Length (inches): 231.8 (double); 231.7 or 241.2 (crew)
Width: 81.2 inches
Height: 75.6 to 78.5 inches
Passenger volume: NR
Storage volume: 5-foot, 8-inch or 6-foot, 6-inch or 8-foot box
Towing capacity: Up to 7,000 pounds
EPA: 20/23/21 mpg city/highway/combined
Fuel Type: Regular gasoline
Fuel tank: 24.0 gallons
Curb weight: 4,474 to 5,008 pounds
IIHS safety rating: N/A
Limited vehicle warranty: 3 years/36,000 miles
Powertrain warranty: 5 years/60,000 miles
Corrosion warranty: 6 years/100,000 miles
Vehicle assembly: Fort Wayne, Indiana and Silao, Guanajuato MEXICO
---
---
See Also — Happy Centennial: 2018 Chevrolet Silverado 1500
Photos copyright Auto Trends Magazine. All rights reserved.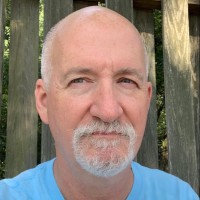 Latest posts by Matthew Keegan
(see all)