Cadillac delivers a compact sedan with a performance edge.
---
Cadillac remains committed to sedans, with two new models for the choosing. The CT4 is this marque's compact offering and the CT5 is its midsize model. As for the CT6, it's gone as Cadillac focuses its attention on higher volume models and utility vehicles.
It isn't too often that we get to drive a model twice within the same year, but we did just that with the CT4, another V-Series trim at that. But who are we to complain? After all, if you like combining your luxury with performance, the 2021 CT4 sedan holds its own.
Furthermore, the upcoming Blackwing edition rolling out this summer as a 2022 model brings optimum potency and manual shifting to bear – that's a winning combination in our book!
Instead of dissecting our latest model in our usual review format, we'll take a look at the salient points utilizing a more informal discussion. You can find our initial review here — Compact Performance: 2021 Cadillac CT4-V.
2021 Cadillac CT4 Highlights
1. A Tidy Layout
Go back a few generations, as recently as the 1990s, and Cadillacs were typically land barges. These later models, though, were still quite a bit smaller than the prodigious Cadillacs of the 1960s and 1970s, where model names such as the Eldorado, Sedan de'Ville, and Fleetwood held sway.
Those sedan models are long gone – only the Escalade has the girth that once was synonymous with the Cadillac imprint.
The CT4 and the previous ATS are the smallest Cadillacs models since the Cimarron of the 1980s. Let's forget the "Cimarron by Cadillac" because that model was a badge-engineered "J-car" which means it shared its bones with models sporting Chevrolet, Pontiac, Oldsmobile, and Buick nameplates.
As for the CT4, its architecture is fairly unique, although the Chevrolet Camaro also shares its platform. Still, with a 109.3-inch wheelbase, it is in the category of a compact luxury car.
This one features the shortest of overhangs, a bold front fascia dominated by LED accent lighting, a minimalist profile, and a pushed-in trunk. Certainly, it's glamorous, but it's also far from pretentious. Think BMW 4 Series or Mercedes-Benz C-Class for its top German competitors. The Lexus IS from Japan is another model in this segment.
2. A Clean and Uncluttered Interior
Cadillac interiors have improved over the past generation, but they still don't rise to the same levels of lavishments offered by its top competitors.
That said, there are enough soft-touch materials, leather trims, and an overall quietude that keeps the CT4 relevant in a shrinking, but discriminating segment. We applaud Cadillac for taking some pages from the BMW playbook through its minimalist cabin.
However, we must say that the 4 Series has a roomier back seat, while the CT4 is cramped, at least for adults. If you have the unfortunate assignment of sitting on the rear seat and with two people up front who prefer to have their seats pushed all the way back, then you'll find the legroom wanting.
Also, the trunk is quite small, measuring just 10.7 cubic feet. That's well below the average for this segment. So, take it from us: consider the CT4 ideal for two people and the CT5 the better choice as your family vehicle.
3. CT4: Let's Go Tech!
All trims feature an 8-inch touch-screen display. With even mainstream models pushing up to 10.25 inches, this one seems on the smaller size. No matter, it is a touchscreen we can live with, especially because it is tied in with the Cadillac User Experience or CUE infotainment interface, which allows for personalization.
The system is clean and easy to use; in all but the bases trim it also works with navigation. You can also use the rotary controller or voice control to manage functions.
Other tech features include Bluetooth pairing, Android Auto and Apple CarPlay smartphone connectivity, a WiFi hotspot, two USB ports, an SD card reader, and a pair of auxiliary power outlets.
The standard 8-speaker Bose audio system on the first three trims should please most drivers, but a 14-speaker Bose upgrade is available and comes standard on the V-Series.
4. Safety Equipment
We can't give Cadillac props for the CT4's safety equipment as some of the features that should be offered as standard equipment are extra, typically through a package upgrade.
We're impressed that mainstream brands such as Honda, Nissan, and Subaru, are offering more driver-assist equipment as standard or at least bundled within a trim-level upgrade.
Cadillac does equip the CT4 with a rear-vision camera, forward collision alert, front pedestrian braking, automatic emergency braking, and a safety alert seat. No other upgrades are available with the standard Luxury trim, however.
If you want features such as following distance indicator, lane keep assist with lane departure warning, lane change alert with side blind zone alert, rear cross-traffic alert, and automatic headlamp control, then you'll need to opt for the Driver Awareness Plus Package ($800).
For an additional $900, buyers can opt for the Driver Assist Package that includes adaptive cruise control, enhanced automatic emergency braking, and reverse automatic braking. But that's not all…
5. Super Cruise is Here!
Yes, Cadillac's autonomous driving package, Super Cruise, comes to the CT4. It isn't available on cars made early in the 2021 model year, but it's available with most models built in the 2021 calendar year. Check with your dealer about availability.
Anyway, Super Cruise represents a driver-assistance feature that allows hands-free driving under compatible highway driving conditions, including limited-access roads. Theoretically, you can sit behind the wheel and let the activated system take over, while paying attention to the road and being ready to take over when warned.
The system includes lane change on demand, lane keep assist with lane departure warning, and an HD Surround Vision camera. The system, introduced in 2017, utilizes a driver attention system and LiDAR map data, multiple cameras, and radar sensors to enable the CT4 to achieve Level 2 (of 5) partial driving automation.
Although we didn't preview the system itself, we're familiar with the way they work – no, you won't be able to check your email or be otherwise distracted with the system is active, because it "knows" when you're not paying attention.
6. Two Turbocharged Engine Choices
Cadillac's smallest sedan is motivated by four-cylinder engines only. Yes, you heard that right. But before you get your panties twisted in a wad, consider what's available: a 2.0-liter turbocharged four-cylinder engine with 237 horsepower and 258 pound-feet of torque for the standard model or a 2.7-liter twin-turbocharged four-cylinder engine optional with the Sport trim and standard with the V-Series.
In the Sport model, this one makes 310 horsepower and 350 pound-feet of torque. In the V-Series, the power quotient climbs to 325 horsepower and 380 pound-feet of torque. That's an amazing amount of power squeezed from a four-cylinder engine!
Also, the base engine works with an 8-speed automatic, while the optional engine sends power to the wheels utilizing a 10-speed automatic.
7. The Blackwing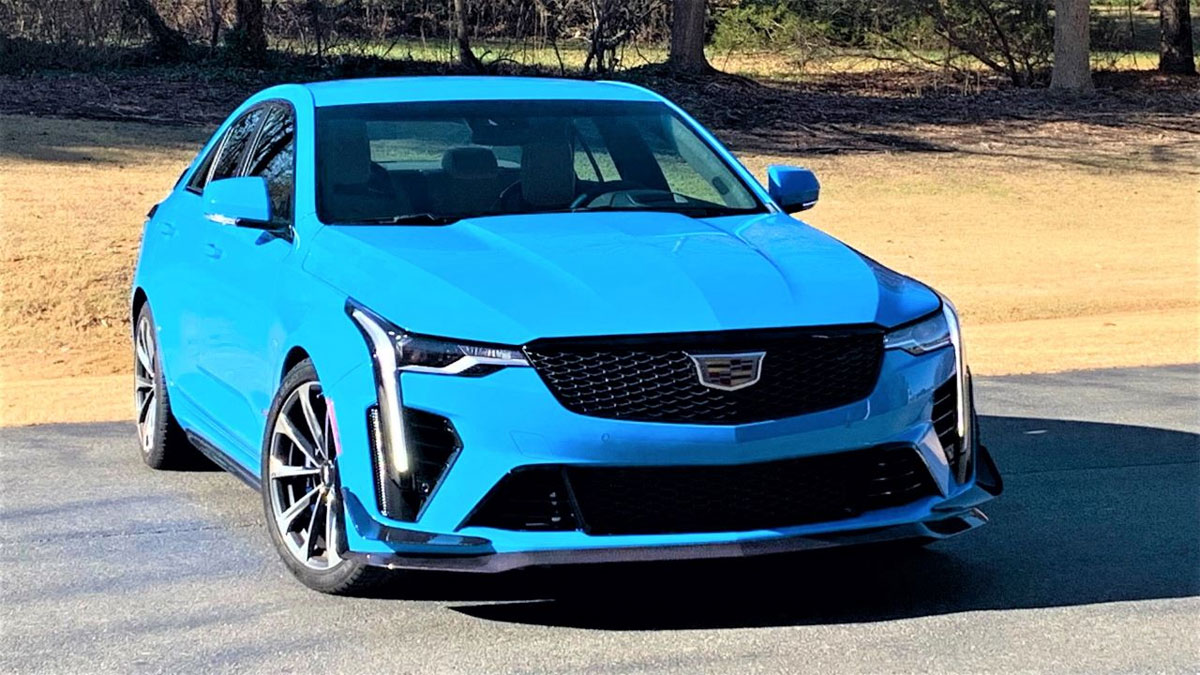 Cadillac isn't done yet with the CT4 (or the CT5, for that matter). This summer, a pair of Blackwing models come out, which represent Cadillac's range-topping performance. Previously, the "plus" model was the Cadillac VSport, followed by the V-Series. Now, the V-Series replaces the VSport and the Blackwing slots in where the V-Series once was. Got it?
Well, you'll be glad when the new model comes out because the CT4 Blackwing comes with a twin-turbocharged 3.6-liter V6 engine. In naturally aspirated form, we've long given this GM engine high marks. Now, with twin-turbo power, it'll shake things up immeasurably.
Take note of the standard transmission: a 6-speed TREMEC manual gearbox! Yes, you have a choice of a 10-speed automatic transmission, but might we suggest NOT getting one? Because with 472 horsepower and 445 pound-feet of torque, this beastly sedan moves.
Of course, the automatic is faster, but the shifting aspect is what helps the Blackwing make the enthusiast grade. Either way, an under 4 second 0-60 mph time should bring a smile to even the sternest face.
Cadillac's 1-2 Sedan Punch
All in all, the Cadillac CT4 and the midsize CT5 endow this marque with mission-fulfilling sedans. With the Blackwing models on deck, Cadillac once again is making its appeal to brand enthusiasts as well as to possible BMW M and Mercedes-AMG customers who might consider making a switch to GM's luxury moniker.
2021 Cadillac CT4 Specifications
| Cadillac | 2021 CT4 |
| --- | --- |
| Segment | Compact Luxury Sedan |
| Price Range | $33,395 to $45,595 ($59,990 Blackwing) |
| Destination Charge | $995 |
| Engine No. 1 | 2.0-liter, turbo I4 |
| Horsepower | 237 @ 5,000 rpm |
| Torque (lb.-ft.) | 258 @ 1,500 to 4,000 rpm |
| Transmission | 8-speed automatic |
| Engine No. 2 | 2.7-liter, turbo I4 |
| Horsepower | 310/325 @ 5,500 rpm |
| Torque (lb.-ft.) | 350/380 @ 1,500/2,000 to 4,000 rpm |
| Transmission | 10-speed automatic |
| Engine No. 3 | 3.6-liter, twin-turbo V6 |
| Horsepower | 472 @ X,XXX rpm |
| Torque (lb.-ft.) | 445 @ X,XXX rpm |
| Transmission | 6-speed manual or 10-speed automatic |
| Seating | 5 |
| Curb Weight (pounds) | 3,422 to 3,761 |
| Wheelbase (inches) | 109.3 |
| Length (inches) | 187.2 |
| Width (inches) | 71.4 |
| Height (inches) | 56.0 |
| Headroom (f,r…inches) | 38.3, 36.5 |
| Legroom (f,r…inches) | 42.4, 33.4 |
| Shoulder room (f,r…inches) | 55.2, 53.9 |
| Hip room (f,r…inches) | 53.0, 52.5 |
| Storage (cubic feet) | 10.7 |
| Gross vehicle weight (pounds) | NR |
| Towing (pounds) | NR |
| Payload (pounds) | NR |
| Fuel | Regular |
| Fuel Tank (gallons) | 17.4 |
| EPA Fuel MPG (city/highway/combined) | 23/34/27 (2.0 FWD); 20/28/23 (2.7 AWD) |
| Manufacturing Plant | Lansing, Michigan |
---
See Also – Cadillac V-Series Blackwing Preview!
Cadillac CT4 V-Series photos copyright Auto Trends Magazine. All rights reserved.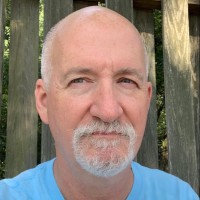 Latest posts by Matthew Keegan
(see all)