When you have the top-selling pony car you simply cannot rest on your laurels. Especially when the competition is fierce and is always looking at ways to conquest customers.
In the Mustang, Ford isn't taking anything for granted. Indeed, the 2018 Mustang offers an important refresh, one that affects this model's design, interior, chassis and overall performance. And once again for 2018, Ford offers the Mustang in coupe and convertible body styles. You also can choose a Shelby GT350, the top-performing steed in the Mustang family.
But for this review, we're going to look almost entirely at the Mustang GT. The reason, of course, is because a 2018 Ford Mustang GT in bright Orange Fury metallic was my weekly driver. Here's how Ford improved the 2018 Mustang:
1. Exterior Embellishments.
Ford left most of the sheet metal alone with the latest Mustang, but not completely. The most noteworthy change is with the hood as it now dips lower and features a pair of hood vents.
Ford also redesigned the grille, made the LED headlamps standard across the model line and added a splitter. Other exterior tweaks were made to the front turn signals, the tri-bar LED tail lamps and to the rear quad exhaust tips.
The 2018 Mustang now offers an even dozen wheel design choices. Last, but certainly not least, the Orange Fury paint is one of three new colors for this year. The other two are Kona Blue and Royal Crimson.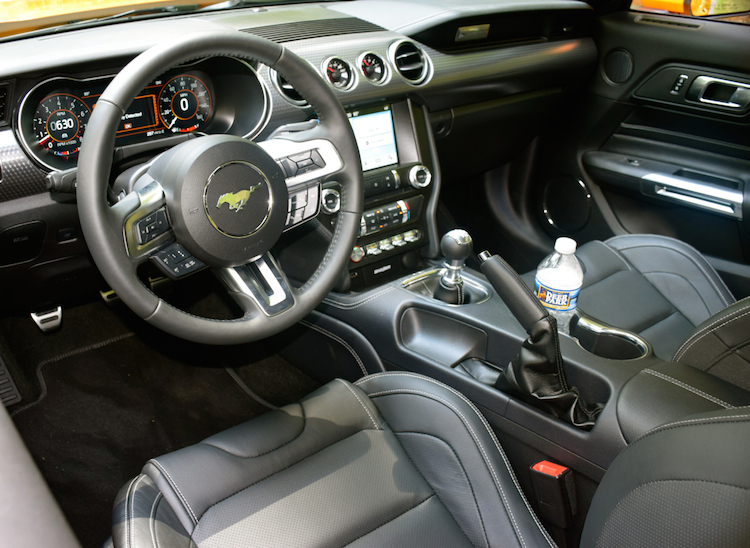 2. Interior Enhancements.
The in-cabin changes begin with the pulsing start button. It's a small change, one that basically lures you into starting the stallion. The dashboard now features hand stitching along with contrast stitching on the center console. The knee bolsters (located on either side of the console) are padded.
Other changes include restyled seating surfaces with new patterns and color choices. I found it more comfortable this time around, with improved lower back support evident.
Ford didn't say anything about changes to the transmission shifter (I had the manual model), but I found it shifted more smoothly with excellent clutch uptake too. An available heated steering wheel now comes wrapped in upgraded leather.
3. Performance Upgrades.
Ford tweaked the performance numbers for both engines with the base turbo four now making 310 horsepower and 350 pound-feet of torque thanks to a "transient overboost function." That function has no impact on horsepower, but it raises torque by 30 pound-feet.
As for the 5.0-liter naturally aspirated V8, it now delivers the best performance numbers ever: 460 horsepower and 420 pound-feet of torque. That's up from 435 horsepower and 400 pound-feet of torque last year.
As before, both engines come with a six-speed manual gearbox. We're thrilled that Ford isn't backing away from allowing customers to row their own. That said, Ford swapped out the previous six-speed automatic with a 10-speed automatic, a leap that benefits both fuel economy and performance. Indeed, when equipped with the automatic, the GT can go from 0-60 mph in under 4 seconds. As for the turbo, it can now make that run up in about 5 seconds. Amazing, isn't it?
Two tech changes affect performance too. The first are the drive modes — there are now five, including a new drag mode. Put the Mustang in the new mode, gun the engine and you'll enjoy constant horsepower and torque as you pick up speed.
As for the instrument panel, you can opt for the available 12-inch all-digital instrument cluster, which is a tech marvel unto itself. Indeed, the display is an amazing novelty, one that's controlled by steering wheel inputs. The cluster includes more than 10 different animations for various features, eight possible gauges for displaying an assortment of vehicle functions (including temperature, inlet air, cylinder head and coolant) and a Mustang Line Lock feature. This feature reveals a digital display animation of a spinning wheel and smoke, synchronized with the actual wheels spinning on the Mustang.
4. Chassis Changes.
With all the changes to the exterior, cabin and powertrain, there is one more area where the 2018 Ford Mustang benefits: the chassis. Certainly, if the engine is upgraded and a 10-speed automatic is now available, changes to the way the Mustang rides, steers, handles, brakes and feels are also in order.
Happily, Ford followed through by supplying the Mustang with new shock absorbers, a new cross-axis joint in the rear suspension as well as modified stabilizer bars for improved ride and handling. These changes cover all 2018 Mustang models, not just the GT.
What's exclusive to the GT and found in my test model is the GT Performance Pack Level 2. This pack includes the performance front splitter and a new rear spoiler. Add in a lower stance and the result is improved aerodynamics and enhanced downforce for superior curve control. You will also find Michelin Pilot Sport Cup 2 tires, retuned steering and Ford's MagneRide suspension.
MagneRide represents custom-tuned dampers and quicker steering calibration for improved responsiveness. Other gains over the Level 1 pack include a 67-percent stiffer rear stabilizer bar, a 12-percent stiffer front stabilizer bar, along with 20-percent stiffer front and 13-percent stiffer rear springs. Ford says that this means a more stable ride around corners with less body roll.
Special Help for Baby Boomers
Before I offer a breakdown of my behind-the-wheel time with the GT, allow me to offer a special note to my fellow Baby Boomers. I regularly speak with my peers, individuals whose memory of the initial muscle car movement was part of their growing up years.
Like me, you may be relishing the current Mustang–Camaro–Challenger battle, even if you're a bit sad that Oldsmobile, AMC, Plymouth, Pontiac and some others are no longer around. Happily, there are (or were) Corvette, Viper, F-Type, Godzilla and a handful of other attainable sports cars to entertain you as well.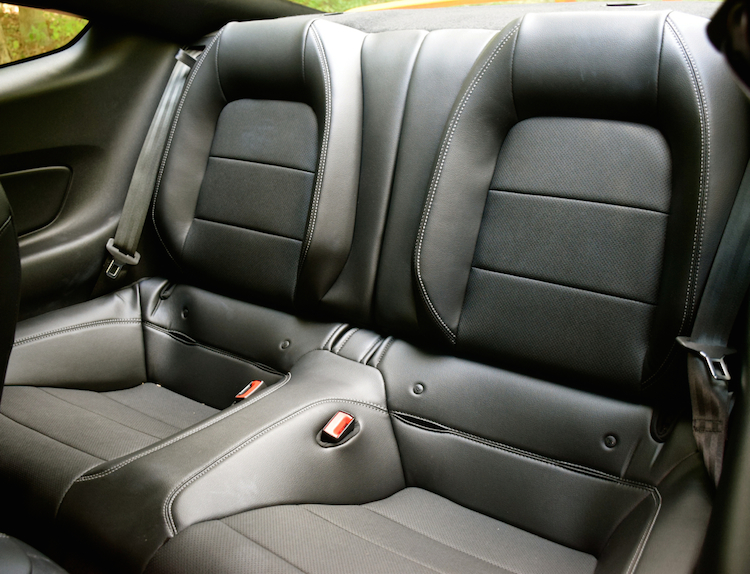 The problem, though, for us mature folks who can afford the new rides is two-fold:
1), seat comfort and,
2) manual shifting.
I mentioned something earlier about the seats — they've been redesigned and are much more comfortable. Indeed, where I had previously experienced lower back pain in the 2017 Mustang GT following a week of galloping around in it, I managed just fine with the new model. As for shifting, if you're battling arthritis, any kind of resistance with the clutch or transmission shifter makes switching to an automatic sensible.
But there is good news here too — shifting is smooth and clutch uptake is effortless. Although Ford didn't delve deep into the changes, I found Autoblog did. This online publication described the changes as "…beefier synchros, a dual-mass flywheel and a twin-disc clutch." That's why the updated manual shifts smoother than ever. Now if Ford would make the transmission shift tree clearer on the shift knob….
Behind the Wheel of a 2018 Ford Mustang GT
During my week with the 2018 Mustang, I heard from other Mustang owners about their experiences with their steed. One young man also had a 2018 model, although his came with the 10-speed automatic transmission. What I learned from him is that the automatic is simply stunning and enables this galloping stallion to achieve its best speed records.
The manual gearbox, though, is no slouch. I've already covered the intricacies of shifting, so it is time to look at some of the special features offered, including line-lock.
Track fans will enjoy line-lock, which makes it easier to do burnouts than before. Start by finding the wheel-mounted thumb switches, then press a few buttons to activate the Track App, then select the feature. Once activated, the system automatically builds pressure in the front brakes. Next, press an additional button to hold pressure for up to 15 seconds while you slam the throttle and spin the rear tires.
---
See Also — Book Review: Mustang by Design
---
Get this right and the engine will roar and the tires will join in by squealing and smoking.
Beyond the tech-derived fun stuff, the 2018 Mustang offers ample fun without special input. Slip behind the wheel, buckle in and the flashing start button entices you to begin. Press down on the clutch, push the start button and enjoy the roar. Then, shift into gear and make your way out.
As fast as this coupe can move, some of the noteworthy attributes include how well weighted the steering is as well as handling that's predictable, yet sharp. A big help here is Magnetic Ride Control, which is optional. With this, you'll control the dampers with the drive mode switch and get to experience settings ranging from soft to firm.
Parting Thoughts: 2018 Mustang GT
Ford isn't allowing grass to grow on the pavement with the Mustang. Ever since its competitors returned to the market, we've seen regular updates if not an entire overhaul of the model line. This year's GT should please enthusiasts, but keep an eye on the price because a fully loaded model now costs more than $50,000.
Looking ahead (and we can't help doing that because you can already order a 2019) there are more changes in the offing. Ford says the 2019 GT350 model will receive improved aerodynamics and upgrades to the suspension, brakes and tires. Overall, it'll offer enhanced handling.
The new model at the top of the Mustang line is the GT 500. We don't know much about this model other than it'll clear at least 700 horsepower. An official rollout doesn't happen until Jan. at Detroit's auto show.
With more than a half-century of heritage upholding this venerable stallion, Mustang shoppers are getting what they want and then some. Special edition models such as the Bullitt fill the Mustang stable with more of what fans crave.
---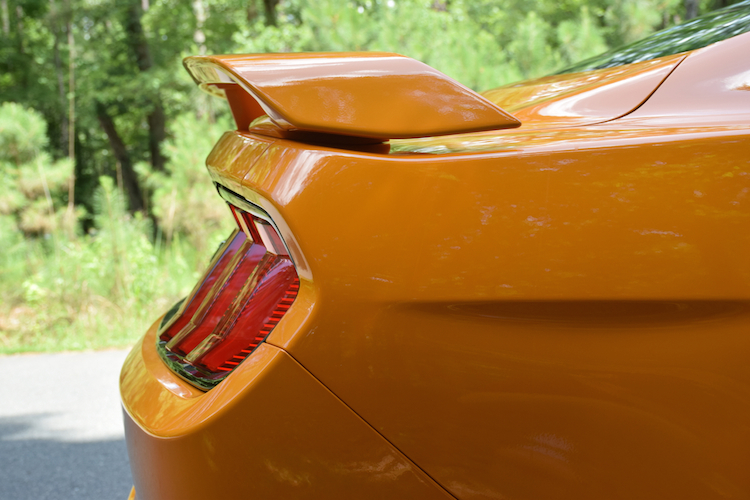 ---
2018 Ford Mustang GT Premium Fastback
Sticker price from $39,095
Price as tested: $53,260
Seats four
Engine: 5.0-liter V8 gas
460 hp @ 7,000 RPM
420 lb.-ft. of torque @ 4,600 RPM
6-speed manual or 10-speed automatic transmission
Wheelbase: 107.1 inches
Length: 188.5 inches
Width: 75.4 inches
Height: 54.3 inches
Passenger volume: 82.8 cubic feet
Storage volume: 13.5 cubic feet
Towing capacity: NR
EPA: 15/25 mpg city/highway
Premium gasoline
Fuel tank: 16 gallons
Curb weight: From 3,705 pounds
IIHS safety rating: Good (most scores); Acceptable (Driver-side small overlap)
Limited vehicle warranty: 3 years/36,000 miles
Powertrain warranty: 5 years/60,000 miles
Corrosion warranty: 5 years/unlimited miles
Vehicle assembly: Flat Rock, Michigan
---
---
See Also — Charmed, Then Snakebitten by a Shelby GT350
Photos copyright Auto Trends Magazine. All rights reserved.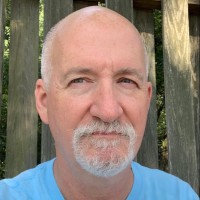 Latest posts by Matthew Keegan
(see all)