You won't find Jaguar calling the F-Type a tribute or spiritual successor model of the Jaguar E-Type, but in many ways it is.
Forty years after the earlier sports car was canceled, an all-new Jaguar F-Type model arrived in 2014. The F-Type has the long hood, rounded side body panels and the spheroid taillight touches of the earlier model, but beyond that Jaguar's sports car is modern and ideally suited to take on such competitors as the BMW Z4, Porsche 911 and the Mercedes-Benz SLK Class.
Our Jaguar F-Type buying guide covers the first five years of this model's run. Please use it if you're shopping for a Jaguar F-Type.
A New Beginning
The 2014 Jaguar F-Type immediately served notice that a new British sports car not named McLaren or Lotus had arrived. But instead of a full frontal assault, Jaguar dipped its toes in the market, by presenting just one of the two expected body styles, and a convertible at that.
Further, Jaguar chose a conservative route with the F-Type's powertrains and drivetrains, by holding off on the eventual manual transmission and all-wheel drive options expected.
But don't think anything less of the 2014 Jaguar F-Type because of its modest debut. What you have is a stunningly handsome design marked by a large grille opening bordered by air intake chambers.
Upwardly sloping headlamps with natty LED accent lights nearly complete the frontal presentation. Of course, we'd be remiss to forget the clamshell hood, a style which is also favored by such competitors as the Maserati Ghibli and Chevrolet Corvette.
A Matter of Design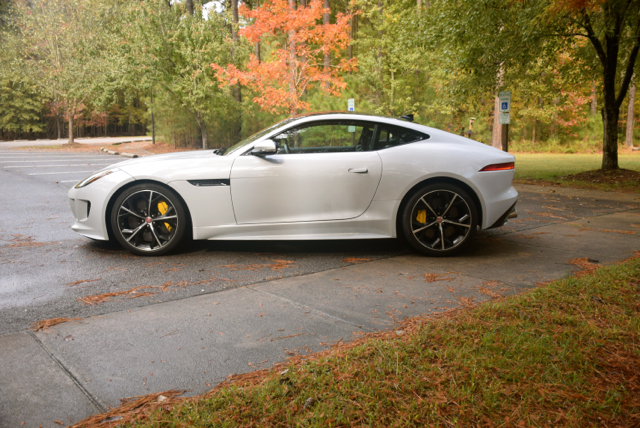 Scan your eyes along the profile and the rounded panels dominate. Jaguar's designers could have left well enough alone, but added an uninterrupted line that begins at the front of the car, crosses the front fender and door before fading away as it bends at the rear.
A second line flows from wheel to wheel, intersecting with a wheel vent before dipping as it bypasses the flush door handle. From the rear, the Jaguar's haunch is marked by narrow wraparound tail lamps and dual exhaust tips centered within the rear diffuser.
Inside, cozy is the operative word. The seats, while comfortable and supportive, may not work for taller individuals. But they're adjustable and that's a saving grace for drivers who do fit inside.
Attractively stitched leather, metallic accents and firm controls (which are ideally placed) underscore the attention to detail we expect. Never mind the stellar build quality inside and out.
Tech and Safety
Concerning technology matters, the Jaguar F-Type does a few things quite well. Beginning with the 2014 model, a 10-speaker audio system with a CD player, smartphone integration, a USB port, and an auxiliary jack are standard features.
An 8-inch color touch-screen display is included. Optionally, Jaguar offers a 12-speaker audio package.
Various driver-assist features are available as part of an optional Vision Package. Here, you'll find a rearview camera, blind spot monitoring, reverse traffic detection along with front and rear parking aids.
An available adaptive front lighting system improves night visibility while cornering. Automatic high beams is another option.
The 2015 model returned without technology changes. For 2016, the F-Type has a new telematics and connectivity suite, including automated emergency calling and smartphone connectivity.
However, shoppers should know that at no time through this model's first five years has Jaguar offered Android Auto or Apple CarPlay smartphone integration. As for 2017, the technologies remain the same.
Beginning in 2018, the F-Type has a new infotainment system, which features a tablet-style screen for controlling audio, navigation and other functions. GoPro camera integration is also new, which includes an app for producing video.
An available forward-facing camera works with the Jaguar's emergency braking system to enhance automatic braking. Adaptive speed limiter, traffic sign recognition and driver condition monitor are also new this year. Parallel parking assist is available.
Under the Hood
Jaguar and Land Rover are joined at the hip, therefore the engines and transmissions they offer are shared between these two iconic British brands.
From the onset, this Jaguar has offered both a supercharged V6 engine displacing 3 liters and a supercharged 5.0-liter V8. The standard engine makes 340 horsepower and 332 pound-feet of torque, except in "S" models where it makes 380 horsepower.
The V8 engines deliver a blistering 495 horsepower and 460 pound-feet of torque. Both engines work alongside an 8-speed automatic transmission with rev-matching and paddle shift controls.
All F-Type models have a brake-based torque vectoring system, which contributes to a more planted feel when taking sharp corners. Further, V6 rear-wheel-drive models have a mechanical limited-slip differential, while V8 models have an electronically controlled version.
Jaguar also includes a drive mode selector, which supplies switch-operated control under a variety of conditions, including rain, ice, and snow for better grip. On dry roads, the system adjusts transmission shifts and engine RPMs.
Charting the Performance Changes
Jaguar never hesitates to make changes to its halo F-Type sports car. Each subsequent model year seems to build on the previous one with those changes going beyond a simple update.
For its first year, the F-Type was available as a convertible only and in base, S, and V8 S trims.
For 2015, the coupe joined the ranks. It can be found in S and R editions, the latter sharing the same supercharged V8 found in the coupe, but with its performance kicked up to 550 horsepower and 502 pound-feet of torque. As before, all engines work with an eight-speed automatic transmission.
All-Wheel Drive and a Manual Gearbox
Beginning in 2016, the F-Type received what some enthusiasts had long wanted: a six-speed manual gearbox. This manual delivers the quick shifts you'd expect in a sports car.
Also new this year is optional all-wheel drive. The automatic transmission is your singular choice here. Other changes include the discontinuation of the V8 S model and the introduction of electric power steering, which replaces the previous hydraulic system.
The changes for 2017 include the addition of two new trims. A new base model kicks things off, while an SVR trim is the new range-topper. In between, you'll find Premium, S and R trims.
The SVR keeps the supercharged V8, but it also receives an exclusive bump in performance to 575 horsepower and 516 pound-feet of torque. Moreover, the SVR features a specially tuned suspension, wider tires and wheels, and an optional carbon-fiber roof and carbon-ceramic brakes.
For its fifth year, the 2018 Jaguar F-Type gains a third engine. This one is a 2.0-liter turbocharged four-cylinder with an output of 296 horsepower and 295 pound-feet of torque.
Jaguar pairs this rear-wheel-drive-only model with an eight-speed automatic transmission. This engine is the new fuel efficiency leader as it makes an EPA-estimated 23/30 mpg city/highway. Compare that with the V6 at 20/28 and the V8 at 15/24 and the difference are certainly noteworthy.
Also new for 2018 is a special "400 Sport" edition, which raises the V6's performance to 400 horsepower. Lastly, Jaguar discontinued the S trim and rolled out an R Dynamic trim to replace it.
Jaguar F-Type Shopping
If you have your heart set on Jaguar's sports car, you're not alone. Some models, however, are much more difficult to find than others, especially those equipped with the manual transmission. Package options can affect pricing considerably, especially on the SVR trim.
All in all, the Jaguar F-Type is the type of sports car we expect from this British marque.
---
Photos copyright Auto Trends Magazine. All rights reserved.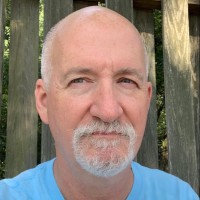 Latest posts by Matthew Keegan
(see all)