Many miles and smiles with Kia's Optima Hybrid sedan.
---
Hybrid sales peaked in 2013 and have fallen steadily since. Low fuel prices are a significant contributor, falling below $2 per gallon at times with those low prices covering large swathes of America. Another reason is the advent of modern electric cars — some shoppers are opting for pure electric vehicles over hybrids.
Though demand has fallen, manufacturers continue to offer hybrids, which help them achieve EPA fleet averages. Although prices are somewhat higher than their standard gasoline counterparts, incentives typically are strong. Shop carefully and you may find a hybrid costing just hundreds more, while returning excellent fuel economy.
2017 Kia Optima Hybrid Review
The 2017 Kia Optima Hybrid is one model among many in the segment. With a base price of $25,995, plus destination, the Optima Hybrid costs $3,495 more than the base Optima S. A second trim, EX, costs $4,995 more than the base hybrid model.
For most weeks I drive a manufacturer's vehicle for six or seven days and for approximately 250 miles. For the Optima Hybrid, we covered more than 800 miles and had the sedan for two weeks.
That's because Kia allowed me to take the hybrid to the 2017 WAPA Rally on Kent Island, Maryland, where my driver partner (Arsis Fruritch) and I drove 10 of the 55 vehicles available. Thank you, Kia!
As for the model at hand, the following are the key points about this hybrid:
Exterior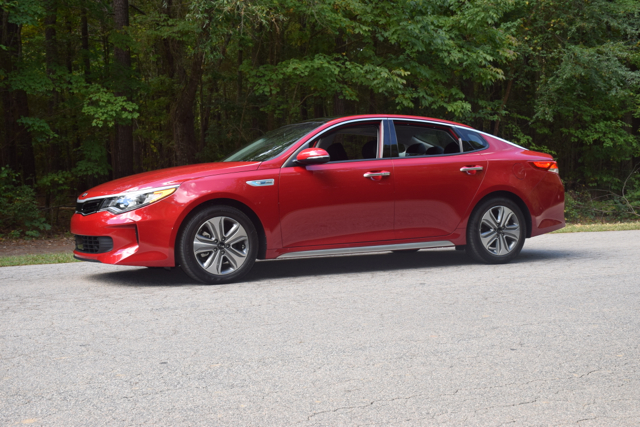 The styling differences are negligible. Put gas and hybrid variants of the same model together and the differences are usually clear. For some mysterious reason, certain automakers think customers want to scream "this is a hybrid," when blending in is the best approach from a styling point in my opinion.
Happily, Kia doesn't make the Optima and Optima Hybrid look much different, other than slight grille differences and badging. What may look avant-garde initially can come across detestable a few years later. I'm not mentioning names, just pointing out the obvious.
Interior
You'll find ample room for five. Nearly across the board, today's midsize models are roomy, offering almost as much space as large sedans. The upsizing we have seen over the past five to 10 years takes an opposite approach from the downsizing of the late 1970s to mid-1980s.
The winner here is the customer who may want no compromise room for five. Midsize sedans are today's family vehicle or at least the type of car families want when an SUV or a minivan is not an option.
Ammenities
The base model is relatively well equipped. Compare the base hybrid to the standard gasoline version and you'll find equipment differences, what demonstrates the hybrid is better equipped, effectively narrowing the $3,495 price difference between the two.
Furthermore, those differences include the following equipment included with the hybrid, but not standard with the base gas model. With this in mind, I did the research for you.
Here goes: heated outside mirrors with LED turn signal indicators, automatic trunk opener, a 7-inch display screen (it measures 5 inches in the gas model), Android Auto and Apple CarPlay compatibility, spill-resistant cloth seats, and an illuminated glove box.
That's quite a number of features you won't find in the standard model unless you opt for the EX trim, costing just $555 less than the Optima Hybrid Premium.
If you want driver-assist features, consider the one package available — the Hybrid Convenience Package ($1,795) adding rear parking assist, blind-spot detection, rear cross traffic alert along with a power driver's seat with lumbar support, power-folding side mirrors, a driver's seat integrated memory system, and sound-absorbing front windows.
Premium Features
The EX edition offers many premium features. As well equipped as the Premium edition is, the EX lifts the equipment offerings to the next level. Indeed, for about five grand you expect a long list of additional standard amenities and the EX delivers.
LED positioning lights, power-folding side mirrors, and 17-inch alloy wheels get things started. You'll also find an 8-inch touchscreen display, satellite radio, HD Radio, navigation, rear console USB ports and a 12-volt outlet, electronic parking brake, mood lighting, front seatback pockets, leather seats, a 12-way power seat with lumbar support, heated front seats, a heated steering wheel, and a split fold-down rear seat.
For another $5,000 you might consider the Hybrid EX Technology Package ($5,000), what adds such features as a panoramic sunroof with a power sunshade, ventilated front seats, and heated rear seats.
You also get Kia's full suite of driver-assist features as rear parking assist, blind-spot detection, rear cross-traffic alert, advanced smart cruise control, and autonomous emergency braking. Add it all up and your price tops $37,000 if you also opt for one of two exterior color choices adding $395 to your cost.
Technology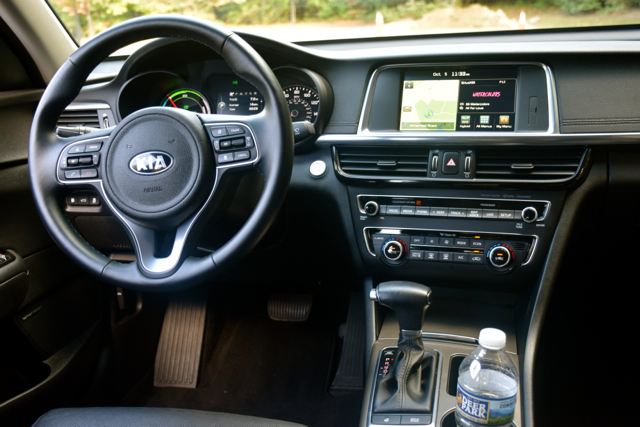 Kia's technology is not difficult to comprehend….or embrace. Kudos to Kia for making a telematics system that is fairly easy to use. The UVO system is a Microsoft product, but far better than what some competitors offered early on (Ford SYNC, for example).
The navigation system worked fine, but I prefer using my iPhone, as Apple CarPlay is my preferred method for obtaining directions. Likewise, Android Auto is also included, giving the majority of smartphone users compatibility they crave.
As for the Harman/Kardon QuantumLogic Premium Surround Sound with ClarifFi (standard in the EX), this 630-watt, 10-speaker unit delivers excellent sound. I like what automakers have done in the sound department over the past few years, by offering top-shelf audio systems on top-trim models.
Safety
Safety is hardly an afterthought. The Insurance Institute for Highway Safety (IIHS) awarded the 2017 Optima with its highest crash-testing rating — Top Safety Pick+. This score applies to the hybrid and underscores the attention to safety taken by Kia.
Both trims come with a full suite of airbags, including a driver's knee airbag. Check out point no. 4 for the various driver-assist features available as they will match what equipment today's models offer.
Incentives
You have the upper hand when negotiating. Rarely do I discuss incentives when reviewing a vehicle. The reason? They change so often. It is always my hope that my reviews will supply value years later too…why add new car incentives when they no longer apply?
In fact, there are incentives on new cars — on hybrids, they're typically the best you'll find. When buying a new hybrid, you should have more leverage than the standard version, so keep this in mind. Either way, expect deals that exceed the average new car, using those incentives to your advantage.
Performance
There are two kinds of performance attributes to consider. The 2.0-liter four-cylinder engine powering the Optima Hybrid is about as mild as they come with just 154 horsepower under its belt.
Thus, this model makes an EPA-estimated 39 mpg in the city and 46 mpg on the highway. Notably, we averaged about 40 mpg and that's a fantastic number for two people and a trunk full of gear.
The engine joins with an electric motor to send power to the front wheels. At times, the motor delivers its own power alone (typically while crawling), but also joins with the engine to combine for 192 horsepower and 271 pound-feet of torque. Consequently, this means when you need to "floor it" the hybrid responds in kind by delivering copious amounts of power.
Furthermore, you'll enjoy a comfortable ride and light-to-the-touch steering in a sedan offering a premium feel. Yes, the brakes are squishy when first applied, but I soon became comfortable with the sensation — what creates kinetic energy that's sent to the lithium polymer battery pack for distribution later.
Parting Thoughts
Optima Hybrid prices can climb quickly if you opt for the EX with the technology package. Personally, I like the base model with the available Hybrid Convenience Package, what delivers a well-equipped hybrid for $29,000.
Work hard on extracting your full incentives and your out-the-door price should come in around $25,000. That's excellent for any midsize sedan, yet especially so for one topping 40 mpg.
As for owning a hybrid in the first place, if you plan to keep it for the long haul, you stand a much better chance of getting your money's worth. You also have Kia's excellent warranty plan backing your Optima Hybrid, providing yet another compelling reason to go green.
Finally, as for the Optima Hybrid's competitive set, you'll find the Toyota Camry Hybrid, Ford Fusion Hybrid, Hyundai Sonata Hybrid, and the Chevrolet Malibu Hybrid offered.
2017 Kia Optima Hybrid Specifications
Premium Trim: $26,890 (including $895 destination fee)
EX Trim: $31,885 (including destination)
Seats five
Engine: 2.0-liter I4 gas, Atkinson cycle
154 horsepower @ 5,000 RPM
140 foot-pounds of torque @ 5,000 RPM
Electric motor: 50 hp; 151.2 foot-pounds of torque
192 total system horsepower
271 total system torque
6-speed automatic transmission/li>
Wheelbase: 110.43 inches
Length: 191.10 inches
Width: 73.20 inches
Height: 57.50 inches
Passenger volume: NR
Storage volume: 13.42 cubic feet
Towing capacity: NR
EPA: 39/46 mpg city/highway
Regular gasoline
Fuel tank: 15.85 gallons
Curb weight: From 3,486 to 3,538 pounds
IIHS safety rating: Top Safety Pick+
Limited vehicle warranty: 5 years/60,000 miles
Powertrain warranty: 10 years/100,000 miles
Corrosion warranty: 5 years/100,000 miles
Electric battery warranty: 12 years/100,000 miles
Vehicle assembly: Hwaseong, South Korea
---
See Also – Swanky SUV: 2016 Kia Sorento EX AWD-
Photos copyright Auto Trends Magazine. All rights reserved.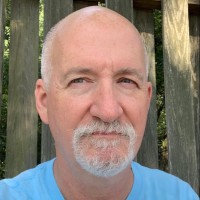 Latest posts by Matthew Keegan
(see all)