The GMC Sierra checks all the important boxes in the full-size truck category.
---
The pickup truck landscape is changing as electric trucks and compact variants emerge in a popular segment. Change is good, provided it yields a product that customers want.
But for shoppers of full-size trucks, only models as large and burly as the GMC Sierra 1500 meet their needs. Because they are the best in all matters of passenger room, cargo-carrying capacity, and towing. We drove a Sierra 1500 Denali and remain impressed with this segment, including this true grit model.
Overview
GMC offers the 2021 Sierra 1500 in Regular Cab ($31,795; long box), Double Cab ($35,540; standard box), and Crew Cab ($37,940 short box and $41,540 standard box) configurations. These prices include the $1,695 destination charge and cover the two-wheel-drive models only.
The Regular Cab seats three and is available in the base Sierra trim only. Choose the Double Cab model and this one comes in Sierra, SLE, and Elevation trims. Opt for the Crew Cab and this style comes in six trims. These are Sierra, SLE, Elevation, SLT, AT4, and Denali. Both the Double and Crew cab models seat five or six.
Shoppers should know that the Crew Cab with the standard box is four-wheel-drive only. We know the uttermost expensive trim is the Crew Cab standard box Denali model. This one retails for $63,985 with the 6.2-liter V8 engine.
Various packages, individual options, and accessories may push the final price above $75,000. Furthermore, keep in mind that various discounts await, which are always changing, but may lower the final cost.
2021 GMC Sierra 1500 Review
Pickup truck manufacturers never seem to allow the dust to gather on the visage of their full-size pickup trucks. Notably, they are completely overhauled about every six years with numerous interim updates taken.
Consequently, the full-size models do not age as fast as other vehicles, keeping them fresh. Thus, customers expect these changes and the GMC Sierra does not disappoint.
For 2021, models equipped with the four-cylinder and diesel engines see a slight uptick in towing performance. Also, four extra-cost exterior color choices roll out. The remaining changes include package shuffling and the expanded availability of the brand's MultiPro tailgate system.
When examining this model, we will not consider the Regular Cab as that one comes in just one trim and has the least number of available options. Essentially, this one is a work truck with a very limited appeal.
Further, acquiring a base Sierra trim most likely means working with your dealer to special order one. For marketing purposes, GMC emphasizes the five other trims along with the many package and individual upgrades.
As for this review, we will examine what is offered with the Crew Cab, the Sierra's most popular body style.
Exterior Highlights
Depending on how you dress your Sierra makes all the difference between glitz and brawn. If you want glitz, then a Denali will its Brobdingnagian chrome grille and chrome accents are the way to go. If you prefer a blacked-out look, then the AT4 will not disappoint. But if you are like the majority of shoppers, a more subdued expression is in keeping with your budget.
What is the best way to describe any full-size pickup truck? Well, massive hoods, thick roof pillars, a slab side with rounded or squared wheel arches are among the highlights.
From the rear, most trims now include the MultiPro tailgate that allows six ways for using one. Ours not only had that design but included a nifty Kicker audio system for tailgate music thrills.
The AT4 also includes red tow hooks, performance off-road shocks, a two-inch lift, and other trim pieces. Our Denali model added a special CarbonPro Edition. This one includes 22-inch high-gloss black wheels, a composite bed, and the Kicker audio system.
As for the bed sizes, only the Regular Cab comes with an 8-foot bed. As for the other bed sizes they measure 6-feet, 6 inches for the standard box and 5-feet, 8-inches for the short box.
Interior Highlights
How do you like your pickup truck? Most buyers shop for Crew Cab models with very few choosing a Regular Cab these days. Indeed, some manufacturers no longer produce Regular Cabs due to the abysmal take rate.
The Double Cab (or extended cab) is an option, but with three-quarter rear doors, it trails the Crew Cab in demand. In any case, both the Sierra Double and Crew Cab models seat six with a front bench seat or five with a pair of bucket seats in the first row.
Overwhelmingly, bucket seats are the choice for most buyers. They are comfortable, supportive, and ideal for tall people. Yes, when it comes to accommodating the biggest among us, the full-size trucks and their utility vehicle counterparts (GMC Yukon/Yukon XL) are the best choice.
If there is a weakness for the Sierra, then that would be its interior. On its own, the Sierra shines. But when compared with the Ram 1500 and the Ford F-150, that luster dims. Indeed, both competitors have more sophisticated interiors with better quality materials available.
In particular, the Ram is the best of the lot with its luxury car equivalent interior, at least on the top grades. The Ram is also the quietest of the group.
GMC includes more soft-touch materials further up the Sierra range with hard plastics in out-of-the-way places. The color choices are not especially exciting, even on the Denali trim. The textures utilized are as expected. Unfortunately, there is little to pleasantly surprise us here. We think GMC can do better and it should.
Technology Features
GMC equips the Sierra with a 6-speaker audio system. Most trims include an 8-inch color display. Other standard features include Bluetooth and satellite radio.
Among the many upgrades are HD Radio and Apple CarPlay and Android Auto wireless compatibility. Further, OnStar connected services, Amazon Alexa, and a Wi-Fi hotspot are on the upgrades list. A Bose audio system and a navigation system are also available.
Safety Features
Not surprisingly, the Sierra comes with very few standard driver-assist safety features. Some competitors offer more standard equipment, but GMC typically bundles features or adds them as you move up the trim range. In any case, the Sierra comes with a rearview camera and Teen Driver, the latter a parental control system.
The list of available features includes lane keep assist, lane departure warning, and lane change alert. Blind-spot monitoring with rear cross-traffic alert and adaptive cruise control are optional.
Further, this model comes with front and rear parking sensors, forward collision warning, and automatic emergency braking with pedestrian detection. Lastly, a head-up display, surround-view camera system, a rear camera mirror, and a safety alert seat can be had.
Nine Propulsion Choices
If you want to star in this segment, you need to offer multiple powertrain options. GMC calls them "propulsion choices." Who are we to argue with that?
Notably, there are nine choices. That's right, nine. In a segment where the two Japanese competitors, the Toyota Tundra and Nissan Titan offer just one (we expect the Tundra to gain a hybrid in 2022), GMC goes all out.
But we need to stick a gargantuan asterisk by this claim as five of the choices are effectively the same. Consequently, the number is in reality five. We will explain the discrepancy below.
The smallest of the lot is a 2.7-liter turbocharged four-cylinder engine.
Now, before you have your panties twisted in a wad, you should know that this engine is far from lame. Indeed, it is a veritable workhorse with 310 horsepower and 348 pound-feet of torque available.
Power routes to the wheels utilizing a 10-speed automatic transmission. Models equipped with this engine manage a robust 2,060-pound maximum payload and 9,200-pound maximum trailering capability.
Up next, at least in terms of displacement, is a 3.0-liter six-cylinder turbo-diesel.
Also seeming quite small to motivate the Sierra, the diesel is more than up to handling the task. This engine bangs out just 277 horsepower, but it throws down 460 pound-feet of torque, the latter matching the output of the momentum gas V8 engine.
Its payload numbers are the best among all Sierras, with up to 2,250 pounds available. This model is also no slouch in all things trailering with up to 9,300 pounds available. Power travels to the wheels utilizing a 10-speed automatic transmission.
For years, the base engine in the Sierra fold is a 4.3-liter V6. It still is.
This naturally aspirated engine has gained some power over the years, but it makes a relatively modest 285 horsepower and 305 pound-feet of torque.
Its payload, though, is one of the strongest among the GMC Sierras, with up to 2,250 pounds at your disposal. However, in the towing department, it maxes out at 7,900 pounds, which is the lowest among the Sierra engines.
Power routes to the wheels utilizing a 6-speed automatic transmission. Certainly, this represents a base powertrain that may appeal only to a small segment of buyers.
With three propulsion choices down, positions four through eight are represented by the same engine.
This one is the smaller of two V8s, with a displacement of 5.3 liters. Look closely at what is being offered and you will see that this engine comes paired with either a 6-, 8-, or 10-speed automatic transmission.
Further, some versions are equipped with active or direct fuel management while others are not. Why the distinction? Due to the ongoing global semiconductor chip shortage.
Without enough chips to go around, GM is building some trucks without the ability to shut down cylinders to save fuel. In other words, the fuel management techniques employed here are not included. This comes to whether a customer wants a truck now (and loses 1 mpg) or is willing to wait months for the chips to arrive.
In any case, this engine makes 355 horsepower and 383 pound-feet of torque no matter how it is managed. The maximum payload is 2,180 pounds while trailering tops out at 11,300 pounds.
One burly V8 engine.
What's a substantial pickup truck without the option of maximum horsepower and ultimate torque? GMC delivers with a 6.2-liter V8 that makes 420 horsepower and 460 pound-feet of torque.
This engine works with a 10-speed automatic transmission. The maximum payload is 2,000 pounds while towing tops out at a best 11,800 pounds.
Sierra Performance Notes
Through the years, we have driven every Sierra model available or at least its Chevrolet Silverado counterpart. The lone exception is a Sierra powered by the current version of its 4.3-liter V6 engine. We have not driven one since its performance numbers were upped significantly from 195 horsepower several years ago.
Our test Denali Crew Cab model came with the 6.2-liter V8 engine. With standard four-wheel drive, this one is ready to go wherever a Sierra will take you. And that is quite far for those who want to go places off-road.
We kept the Sierra on firm pavement most of the time. The handy drive mode knob allows for ease of switching between rear-wheel drive, all-wheel drive, and four-wheel drive.
The latter includes 4Hi and 4Lo. The interesting feature here is all-wheel drive as the system automatically shifts power to the front wheels, as needed. That was our mode of choice and we noticed the difference, especially on slippery roads.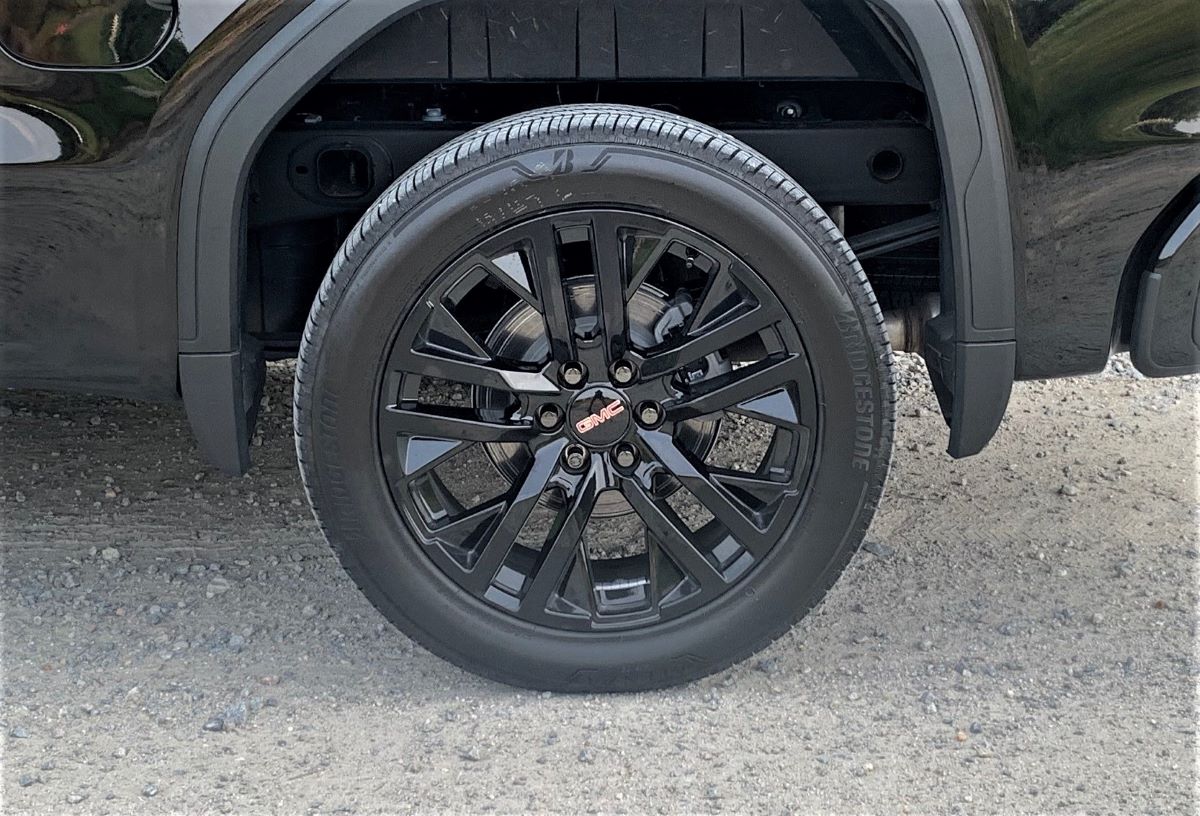 Furthermore, all-wheel drive comes in handy on uneven terrain, particularly where the front wheels do not need to be locked as they are with four-wheel drive.
Of course, we recommend switching to four-wheel drive on tougher terrain, but if you are navigating dry trails, it is an appropriate mode. In any case, we would switch to four-wheel drive if the trails are wet and muddy to keep the front wheels involved at all times.
The largest V8 is entirely suitable for the job at hand. While the other engines are also appropriate, the amount of power this 6.2-liter engine develops from the onset makes a significant difference. Particularly, in towing. In carrying a full load of passengers. When the truck bed is loaded. In every conceivable way that this truck needs to support a substantial load.
For example, if you needed to get somewhere in a hurry, this V8 can do it. Related to the same engine powering the Corvette, it moves the Sierra with authority.
To illustrate, this engine supplies excellent step-off acceleration, despite possessing nearly three tons of girth to move. Indeed, it tackles the straightway just fine, although if you are expecting off-road chops rivaling the Ford Raptor or Ram TRX, it will not be found.
Competitive Set
The full-size pickup truck segment is comprised of a small cohort of vehicles. GM is represented by the Chevrolet Silverado 1500 and the GMC Sierra 1500. Other models from domestic manufacturers include the Ford F-150 and the Ram 1500. All four also produce heavy-duty variants.
Two more manufacturers are also in the segment, although neither produces heavy-duty versions. These are the Toyota Tundra and the Nissan Titan/Titan XD.
The domestics have a full range of engine choices, including diesel. On the other hand, Toyota and Nissan currently offer one powertrain combination based on a V8 engine. Both are clearly overmatched in the segment, but buyers may find better value with the models offered.
Our Recommendation
The Denali is the crown jewel of the Sierra fleet, while the AT4 emphasizes this model's off-road chops. We know customers are often enamored by much glitz or all-terrain prowess, but when it comes to paying the premium prices, something more earthbound is usually chosen.
We think the SLT trim supplies the sweet spot for the Sierra. Here, this model comes with dual-zone climate control, leather upholstery, a heated steering wheel, and power-operated front seats.
Moreover, a locking rear differential, two 120-volt outlets, and the MultiPro tailgate are included. Finally, this trim features an upgraded infotainment system with voice recognition, HD Radio, and satellite radio.
In all, a well-equipped Sierra will set you back around $55,000, although discounting can lower your cost substantially. Regardless of how you equip your model, the GMC Sierra holds up well in a niche segment.
---
See Also – Massive and Powerful: One Week With the GMC Sierra 2500
Photos copyright Auto Trends Magazine. All rights reserved.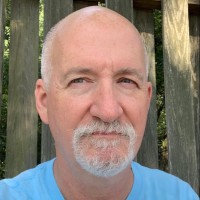 Latest posts by Matthew Keegan
(see all)