Drop-top fun comes to Lexus' range-topping sport coupe.
---
We've been anticipating a convertible variant for the breathless LC 500 line and now it's here. Lexus' range-topping sport-touring coupe that debuted in 2018 along with a hybrid version, now claims a drop-top version to round out the model line.
Notably, it's fast, seductive, and very expensive. That said, the LC 500 Convertible just may be the right choice for individuals who love all things Lexus and desire a "wind in the hair" driving experience.
2021 Lexus LC 500 Convertible Review
Lexus prices the 2021 LC 500 Convertible from $101,000 to $119,800, plus a $1,025 destination charge. Two trims are available: Standard and the limited-edition Inspiration Series.
The LC 500 is a rear-wheel-drive model that seats up to four.
Exterior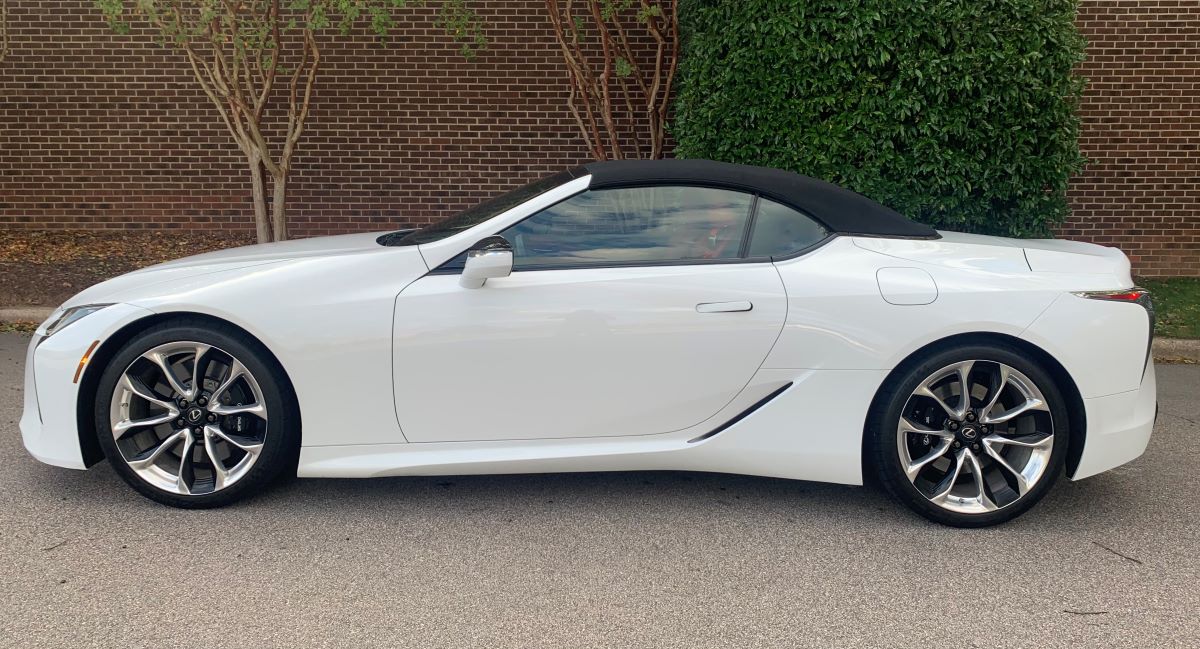 We're familiar with LC 500, having previewed this model in Hawai'i in February 2017. Test drives of the coupe and hybrid gave us an excellent opportunity to understand the workings of this amazing coupe. We appreciate that Lexus drew elements from the LFA sports car for this design. Moreover, it's a fitting model to slot above the RC coupe.
Why we won't rehash what we said here and here regarding the design elements of the coupe, the main difference between it and the convertible is obvious with the soft-top roof.
From its profile, the LC soft-top with the roof up is attractive, but it is with the roof down that its allure rises substantially. We think a hard-top roof would have presented a better look as it did with the now-retired IS, but that's not the avenue Lexus chose when imagining an LC convertible.
With a white body and black roof, the contrast was evident – it offers a tease of what's to come with the roof down and is a can't miss siren to its loveliness. The LC is a head-turner of its own right, but the closed soft-top roof delivers a double-take, especially for anyone familiar with the coupe.
From the rear, it's even more impressive and inviting – who can resist any convertible on a lovely day, particularly one matching the LC's design acuity?
The list of standard exterior features includes arrowhead LED daytime running lights with triple projector LED headlamps, heated side mirrors, puddle lamps, flush door handles with illumination upon opening, 20-inch wheels, four-wheel power-assisted disc brakes, a wind deflector, and a windscreen.
Individual options include 20- or 21-inch forged alloy wheels and a carbon-fiber door scuff plate. A windshield wiper deicer is bundled with a heated leather-trimmed steering wheel.
Interior
Lexus' spec sheet shows seating for four, but this car is ideal for two. We're not sure why Lexus felt the need to add a rear seat – perhaps to help owners with insurance – but there is little room for anyone back there. Even small children would find the space confining with a car seat or booster seat not able to overcome the sheer lack of legroom.
We found the front seats comfortable and supportive with ample adjustment possibilities ensuring the right fit. Between the highly adjustable driver's seat and the equally adjustable power tilt-and-telescopic steering column, there wasn't much concern about comfort and drivability. Heating and cooling elements are always welcome. However, we think Lexus missed an opportunity to include massaging.
Perhaps the most impressive feature of the drop-top LC is the mechanization of the convertible roof. While we can certainly wish for a drop-down hardtop, the soft-top went beyond our expectations in its operation.
Indeed, the workings are simple from the driver's perspective with singular switch-control activation via a panel located between the seats just ahead of the armrest/storage compartment and behind the tech scratchpad.
Lift the cover on the compartment and there are two switches available. The first one manages the entire roof fall and rise activity along with the windows, while the second one raises the rear quarter windows that the first switch only drops down.
Here's how the roof switch works: pull the switch toward you and hold it. Observe how the roof automatically disengages from the windshield – there are no release levers to manage – and the windows roll down while a portion of the trunk raises up to receive the folding roof.
Stay steady with your finger and the entire process is completed within 15 seconds. Importantly, the roof can retract while on the go – at speeds up to 31 mph.
Just keep an eye on the rear-view mirror and take note of the arms that move into place to receive the roof before the trunk lid pops secure into place. The process is done when the instrument panel notification indicates that it is done.
The roof reconnects the same way as long as the switch is pushed toward the front of the car. Again, the process completes automatically with only the rear quarter windows remaining down.
We're not sure why activating the second switch is required to close the windows, especially as those windows drop with the initial roll down. It might be a safety issue to ensure that the windows are flush once the roof reconnects.
The list of standard interior equipment includes keyless entry with push-button start, a leather interior, aluminum pedals, 10-way power front seats with power lumbar support for the driver, a power tilt-and-telescopic steering column, LED interior lights, and stainless-steel scuff plates.
Upgrades outside of the Inspiration Series trim includes a heated leather-wrapped steering wheel, semi-aniline leather seats, and embossed headrests. Also, Lexus offers a climate concierge with upper body heating. This means you can drive with the top down on a cold day thanks to neck heaters.
Tech
There's no shortage of high-tech items gracing the LC. That's to be expected for Toyota's luxury marque. And more so with a six-figure sports model.
Specifically, the standard audio package comprises 12 speakers, HD Radio, satellite radio, and rear-mounted speakers. Further, Apple CarPlay, Android Auto, and Amazon Alexa compatibility come standard. Lastly, Lexus Enform apps, Wi-Fi, Siri Eyes Free, two USB ports, and navigation round out the standard features.
There are a few options available including a 13-speaker Mark Levinson audio system ($1,220) and a head-up display ($900).
Safety
Toyota Motors is big on standard safety features and Lexus doesn't disappoint. The LC comes with automatic high beams, a pre-collision system with pedestrian detection, lane-keep assist with lane-departure alert, blind-spot monitoring, and adaptive cruise control. An automatic parking system is included.
If you're concerned about rollovers with a convertible, you should be. Especially when the roof is down and protection is scant. That said, a pair of active roll bars rise into place behind the rear seat, mitigating a likely disaster without them in place. They're not a substitute for smart driving, but they are useful for potentially saving lives.
Performance
Powering the LC 500 is a 5.0-liter V8 engine with 471 horsepower and 398 pound-feet of torque. No turbochargers, no superchargers, just straight up natural aspiration. Power routes to the rear wheels utilizing a 10-speed automatic transmission. Steering wheel-mounted paddles shifters are included.
Though not a lightweight model (weighing approximately 4,500 pounds), the LC 500 moves forward with authority. Upon ignition, the engine lets out a roar with a whoosh emitting from the rear. Under full throttle, the sport exhaust system supplies an outstanding soundtrack – natural and loud.
With the top down, riders enjoy the full sound experience – it reminds us of the note that was once a staple of Detroit machines. It's a scream we never tire of – in part because it drills down into every fiber of the body. Also, it often surprises people not familiar with this model. "Did a Lexus just do that?"
The LC checks off all the right boxes – a comfortable ride, excellent steering, and wonderful handling. Wide tires, a strut-and-multilink suspension system, and an available Torsen limited-slip differential with adaptive dampers ($460) keep it on track.
On twisty roads, the LC is entirely at home as it effortlessly moves forward. It's a strong corner taker too as it slithers in and out with no brake action required.
Our lone area of disappointment is the lack of a manual transmission. We understand that the take rate would most likely be low, but Lexus misses an opportunity to put a signature on what's an otherwise stellar model.
Just as Toyota found a way to bring back the GR Supra (with BMW's help), we think the LC would benefit by adding a 6-speed manual – a fitting exclamation mark on the entire line.
Competitive Set
The LC 500's segment comprises two- and four-passenger models. As with the LC, most rear seats are in rival models are also useless.
Among the competing models are the BMW M850i, Jaguar F-Type, Mercedes-Benz SL-Class, and the Porsche 911. Other models worth shopping includes the Chevrolet Corvette and Nissan's GT-R.
Our Recommendation
The available Inspiration Series drives up the final price by about $20,000. That's a spend-up we're not keen on, but it carves out exclusivity for the 100 buyers in the U.S. who might opt for one. The "structural blue" paint scheme, carbon fiber door sills, 21-inch forged wheels, and white interior are gorgeous though.
Stick with the base model and perhaps opt for the head-up display and the limited-slip differential. They're the only options you'll need, bringing your final price to a cool $103,000 or so.
2021 Lexus LC500 Convertible Specifications
Sticker price from $102,025
Price as tested: $110,000 (est.)
Seats four
Engine: 5.0-liter V8 gas
471 horsepower @ 7,100 RPM
398 foot-pounds of torque @ 4,800 RPM
10-speed automatic transmission
Wheelbase: 113.0 inches
Length: 187.4 inches
Width: 75.6 inches
Height: 53.2 inches
Passenger volume: 85.2 cubic feet
Storage volume: 3.4 cubic feet
Towing capacity: NR
EPA: 15/25/18 mpg city/highway/combined
Premium gasoline
Fuel tank: 21.7 gallons
Curb weight: From 4,540 pounds
IIHS safety rating: NR
Limited vehicle warranty: 48 months/50,000 miles
Powertrain warranty: 72 months/72,000 miles
Corrosion warranty: 72 months/unlimited miles
Vehicle assembly: Motomachi, Japan
---
See Also – First Look: 2018 Lexus LC500 and LC500h
Photos copyright Auto Trends Magazine. All rights reserved.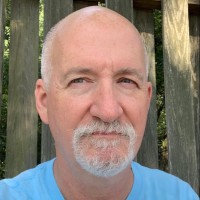 Latest posts by Matthew Keegan
(see all)