The rapid acceleration of automobile technology over the last 100 years has resulted in some amazing innovation. Manufacturers worldwide have each made their contributions, leading to unique cars and intense disagreements.
Here are 10 of history's most heated automaker rivalries and how they've affected the evolution of vehicles.
1. Ford vs. General Motors/Chevy
Ford vs. General Motors and Chevy is the most heated and influential automaker rivalry in history. It all started in 1928, during the days of Henry Ford and Louis Chevrolet. Ford was already at the top of the automobile industry, while Chevrolet was a promising young race car driver.
Chevrolet started a partnership with Will Durant, which led to their acquisition of General Motors. In 1928, GM created the first engine to surpass the Model T in speed.
The two manufacturers spent the next few decades trying to outdo each other in creating the fastest car possible. GM took the upper hand by releasing the Corvette in 1953, but Ford took it back with the Mustang in 1962. Chevy released the Camaro as a direct response in 1966, and the Camaro vs. Mustang debate rages on among car enthusiasts today.
Pickup trucks have defined the Ford vs. Chevy rivalry in the 21st century. The F-Series and Silverado are the two most successful truck lines ever made. The recently released F-150 Lighting could be the latest turning point in the rivalry as the automakers focus more on EV production.
2. Lamborghini vs. Ferrari
The two biggest names in the sports car scene have been rivals since day one. It started on a random day in the 1960s when wealthy tractor manufacturer Ferruccio Lamborghini entered Enzo Ferrari's shop in Maranello, Italy. He complained that his car's clutch broke too quickly, but Ferrari dismissed the complaint and told Lamborghini to stick to his own profession.
After this unpleasant interaction, Lamborghini made a personal goal to create a vehicle that outperformed Ferrari's. The Lamborghini 350 GT was released in 1964, and a few major employees changed companies, which cemented the rivalry for the rest of the two men's lives.
However, the 1970s oil crisis wasn't kind to either automaker and put a stop to their petty back-and-forth. Ferrari's name was well-established enough to avoid bankruptcy, but Lamborghini had to sell his business to Chrysler. Even so, vehicles from both companies are always compared because of the original owners' disdain for each other.
3. Ford vs. Ferrari
Enzo Ferrari also made enemies with Ford with one unpleasant interaction. Ford offered to buy out Ferrari in 1963, but Ferrari declined at the last moment after Ford added a stipulation that he would no longer control his own racing team.
Ferrari was a race car driver at heart, so he decided that his integrity on the track was more important than any financial gain.
On top of rejecting the deal, Ferrari insulted Ford's executives and might have even targeted Henry Ford II personally. It was a rough time for the American manufacturer, which was also dealing with sales shortages and multiple failed models at the time. Desperate for results, Ford teamed up with auto designer Carrol Shelby and driver Ken Miles.
The two men reinvented the Ford GT40 and finally surpassed Ferrari in speed at the 1966 Le Mans in France. A theatrical version of these events plays out in the 2019 film "Ford vs. Ferrari," starring Matt Damon and Christian Bale as Shelby and Miles.
4. BMW vs. Mercedes Benz
The two biggest German luxury car manufacturers have perhaps the most cordial rivalry on the list. There's no backstory about the two founders hating each other.
These two automakers simply get it done time and time again. They often engage in playful banter and poke fun at the rivalry, acknowledging each other's greatness while attempting to outsell each other.
Mercedes has a slight edge in car sales. Its parent company, Daimler AG, also underwent a rebranding in 2022 and changed its official name to Mercedes-Benz AG, highlighting the success of its passenger vehicles. BMW, however, has taken the upper hand in EV production with models like the iX and 740e.
5. Bentley vs. Rolls-Royce
These two automakers were the same brand for decades, but their ugly separation in 1998 due to creative differences immediately sparked a new rivalry. Bentley is now part of Volkswagen AG, while Rolls-Royce belongs to BMW. The divorce has worked out well for both groups, although neither would ever admit it.
Bentley has become more speed-oriented as Volkswagen wants to make a bigger name for itself in the sports car scene. BMW obviously has little need for that, so Rolls-Royce has maintained its classic big and imposing appearance from the 20th century. Tensions have settled down since 1998, but these two big names still aren't fond of one another.
6. Jaguar vs. Aston Martin
While at one time, both Jaguar (until 2008) and Aston Martin (until 2007) were owned by Ford, these two brands were fierce competitors during the 20th century when they were still independent manufacturers. They fought to be the face of British sports cars with models like the DB7 and XKR8, but neither managed to take a clear advantage.
Even today, car enthusiasts constantly compare Jaguar and Aston Martin's new releases simply out of respect for tradition. They have their hands full, as Jaguar continues to produce its popular F-Type series and Aston Martin is churning out more vehicles than at any point in the brand's history.
7. Bugatti vs. Koenigsegg
Speed defines the rivalry between Bugatti and Koenigsegg. These two automakers have stirred up animosity by fighting for the same title: the world's fastest car. Bugatti held the title for a few years with the Chiron, which clocked in at 304.77 miles per hour to set the world record in 2019.
However, Koenigsegg retaliated with the Jesko in the same year, which has also topped 300 mph and can unofficially reach 310+ mph, according to computer simulations. Time will tell whether the Jesko can take the top spot from the Chiron on a real track.
8. Mitsubishi vs. Subaru
Mitsubishi and Subaru's rivalry stems from their shared dominance of the World Rally Championships in the late 1990s and early 2000s. Mitsubishi takes the slight edge with four titles (1996-99) compared to Subaru's three (1995, 2001, 2000), but Subaru is the more popular brand overall.
These automakers are also natural rivals because they have so many similar models, both in appearance and performance. The most well-known example is the Mitsubishi Evo III and Subaru Impreza.
Both cars have nearly identical rear spoilers, 2-liter engines and 260+ horsepower. Drivers can't go wrong with either model, but it's curious why they're so eerily similar.
9. Volkswagen vs. Peugeot
The "hot hatch" line of vehicles has become extremely popular in recent years. It should come as no surprise that people like cars with lots of storage space and high performance.
Volkswagen and Peugeot have been the two leading automakers in the hot hatch trend, with models like Golf GTI and Arteon from VW and the 205 GTI and Fastback from Peugeot.
VW boasts better handling, but Peugeot takes the edge in speed and power in most test drives. These two manufacturers also have a history in the World Rally Championships, which adds more fuel to the fire. Peugeot won four titles (1985, 1986, 2000, 2002), while Volkswagen won four in a row from 2013 to 2016.
10. Holden vs. Ford
Holden was part of General Motors and the biggest name in the automobile industry in Australia and New Zealand during the 20th century, which made it an inevitable competitor with Ford. The two automakers started their somewhat friendly rivalry at the Bathurst 1000, the biggest racing event Down Under.
Unfortunately, this rivalry did not last, as GM ended the production of Holden vehicles in 2021. The domestic market wasn't big enough to support them, and the high manufacturing costs for the race cars caused GM to pull the plug. At least Aussie auto enthusiasts got to see some quality racing before the rivalry ended.
Car Manufacturing Is a Hostile Industry
If there's one lesson people can learn from these heated automaker rivalries, it's that car manufacturing is a hostile industry. Tensions are high among the top decision-makers and personal spats between executives often boil over into companywide disputes.
As ugly as these rivalries might be, they have led to the creation of some of the best cars ever made.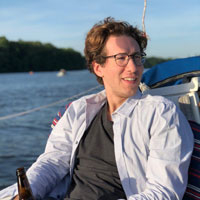 Latest posts by Dylan Berger
(see all)