Until the late 1960s and early 1970s, Japanese vehicles were not much of a threat in the U.S. market. At that time, the Big Three domestic manufacturers dominated, with General Motors, the Ford Motor Company, and the Chrysler Corporation battling it out.
Sure, Volkswagen had a place at the table as did the American Motors Company, but it was a trio of U.S. automakers who dominated the market.
Expanded Market Share
Gradually, but steadily, the Japanese manufacturers turned a toehold into a foothold as models from Toyota, Datsun, and Honda rolled out. Poorly designed and constructed small domestic cars were easily outflanked by models such as the Toyota Corolla, Datsun B210, and the Honda Civic. Indeed, quality issues with such cars as the Ford Pinto and Chevrolet Vega caused many Americans to look at Japanese models for enhanced reliability.
---
---
For many American car shoppers, the 1970s began a wholesale shift from domestic to foreign makes. It was a permanent move too as generations of Americans have owned Toyota Camry and Honda Accord models with nary an American model in the mix. And if there is an American vehicle present, it typically is a pickup truck (more about that later).
Full-Size Japanese Pickup Trucks
Inasmuch as the principal Japanese makes (Datsun later became Nissan) expanded market share and were joined by several niche players, one segment has remained the purvey of American manufacturers: full-size pickup trucks. Indeed, it wasn't until the early part of this century that both Nissan and Toyota dared to compete with the likes of Ford, Chevrolet, GMC, and Dodge/Ram.
Toyota tried first with the Toyota T100, a three-quarter-sized truck that rivals the size of today's midsize models. The Nissan Titan is the first full-size model from a Japanese make, introduced in 2004 and overhauled more than a dozen years later.
The Toyota Tundra rolled out in 2000, building on the T100, but without full-size status. In 2007, an all-new full-size Tundra made its debut, was updated in 2014, before it was finally replaced by an all-new model in 2022. Like the Nissan Titan, the Toyota Tundra takes direct aim at the Ford F-150, Chevrolet Silverado 1500, GMC Sierra 1500, and the Ram 1500.
Success or Not?
To answer the overarching question, does the Toyota Tundra earn its place among full-size pickup truck models?
The simple answer is yes. The more complicated answer is yes, but…. Even so, after spending a full week with the Tundra and following a deep dive with the model when introduced to media, there are some distinctions of note. We will look at these as part of our evaluation of the all-new third-generation model.
---
---
Daring Style
Full-size pickup trucks seem to be vying for styling kingship. The look is far from plain. And in some cases, we have heard comments that strongly suggest not all are worth considering. The heavy-duty versions of the Silverado and Sierra come to mind.
As for Toyota, the bold look of the previous model gives way to an over-the-top expression on the new model. Much of that change concerns the front fascia with its humongous grille and almost exotic LED accent lights. The look is hard to escape. In fact, it is almost overpowering. We do know, though, that personal opinion looms large. That said, you can't help but admire the powerful stance, buff hood, strong shoulders, and solid profile. From the rear, the Tundra seems like most other models except for one important distinction: the ribbed tail lights.
Inside, the Tundra is as cavernous as they come. Toyota doesn't offer a bench seat option up front and that is no loss. The front seats are massive, thickly cushioned, supportive, and very comfortable. Most trims come with heating and cooling controls. Fabric-covered seats are standard. Imitation leather and real hides are available. The rear seats fit three adults with ease. Of course, the legroom edge belongs entirely with the CrewMax.
Under seat storage in the gas model disappears in the hybrid as that's where the battery pack is stored. Nevertheless, there are ample cubbies, storage compartments, bottle holders, seatback pockets, and other areas where to "lose" your stuff. Overall, the interior is truck burly tough, well organized, and masculine.
Trim Options
For 2022, Toyota offers seven trim choices: SR, SR5, Limited, Platinum, 1794 Edition, TRD Pro, and Capstone. The range-topping Capstone is new this year and bundles with it every range-topping feature. As such, you will pay approximately $75,000 to acquire one. That's about $40,000 more than a base SR model.
Body Choices
While Ford, GMC, Ram, and Chevrolet offer regular, extended, and full four-door cab configurations, Toyota does not. Yes, you have a choice of DoubleCab and CrewMax cabins, each seating five, but you won't find a regular cab. Indeed, the last time a Tundra regular cab was offered was in 2013 just before the previous-generation model was refreshed.
Depending on the trim and cabin style, Toyota offers three bed choices. These are an 8-foot-1-inch bed along with 6-foot-6-inch and 5-foot-6-inch options. Bed lighting and bed outlet options are available.
Two Powertrain Choices
Where Toyota great departs from the domestic competition is in engine choices. All three domestics offer an available turbo-diesel, something neither Toyota nor Nissan has. Further, the competitors offer as many as five engine choices. Toyota offers just one, although there is a difference in how these are presented.
All models have a 3.5-liter twin-turbocharged V6 engine. It comes standard across the model line and makes 389 horsepower and 479 pound-feet of torque. Both numbers beat the outgoing and naturally aspirated 5.7-liter V8 engine.
---
---
Also available and for the first time is a Tundra Hybrid. Unlike traditional Toyota hybrids, this one is optimized for performance. Indeed, Toyota placed the electric motor on the bell housing between the engine and the transmission for enhanced power. As a result, this system develops a maximum of 437 horsepower and 583 pound-feet of torque.
Power routes to the wheels utilizing a 10-speed automatic transmission. Rear-wheel drive is standard; four-wheel drive is available. When properly configured, the Tundra pulls up to 12,000 pounds.
Safety Features
Toyota may not have the powertrain choices or breadth of packages for almost unlimited customization. But it does lead the pack in safety features. Indeed, Toyota has shown leadership in this sphere for some time and the Tundra is one beneficiary of this.
Under the Toyota Safety Sense 2.5 bundle is the requisite rearview camera. Also, Toyota offers lane departure warning, lane-keep assist, and lane tracing assist. Forward collision warning, pedestrian detection, and forward automatic emergency braking are included. Lastly, traffic sign recognition and adaptive cruise control come standard.
There are a few driver-assist features available, depending on the trim and package. These include a head-up display and a surround-view parking camera system. Lastly, blind-spot monitoring is bundled with rear cross-traffic alert.
If you survey the competition, some features are included, while others are available. Toyota, though, has the most comprehensive list of advanced driver-assist technology available.
---
---
Technology Features
We haven't been fans of Toyota infotainment until the 2022 Tundra came along. As owners of Toyota RAV4, then Corolla models, the Entune infotainment system has been wanting. Poor connectivity. A weird app. Slow system. These are among its demerits.
Although we cannot say for certain, it appears Toyota has finally rectified its main deficiency. At least in the Tundra. The SR and SR5 models have an 8-inch touch-screen display, while the other trims come with a 14-inch display. Our test models came with the larger display, therefore that's the one we'll comment on.
What we like about the new system, is that it behaves like other voice command systems, such as Siri and Google. Indeed, by saying "Hey, Toyota," the screen comes "alive" and is ready for your commands. Find a Sirius radio station, ask for directions, adjust the climate control, and manage other cabin features and the system responds. This doesn't mean that it is flawless – sometimes the question is misunderstood and another response made. Overall, though, it works quite well and delivers results without needing to touch the screen. But if you prefer screen interaction, the layout is familiar to tablet and laptop users.
Other included features begin with wireless Apple CarPlay and Android Auto compatibility. Satellite radio, USB ports, and a Wi-Fi hotspot are standard. Double Cab models come with a standard 6-speaker audio system, while CrewMax models have 9 speakers.
Move up the trim and package range and Toyota adds a 12-speaker JBL audio system. Lastly, wireless charging, additional USB ports, and a nifty 12.3-inch digital instrument panel are included. We like digital panels for the sharp look and customization. Although still fans of analog, the digital display is simply superior.
Out and About
Should you choose the standard gas model or go with the hybrid? In this case, we like the hybrid as it supplies more power, although only a modest increase in fuel efficiency (22 mpg combined versus 20 mpg for the gas model). Again, this model is geared toward performance and it succeeds admirably in that department.
Our test model, though, had the standard engine. This one builds power quickly and forcefully. Under full throttle, the turbos spool quickly and keep on giving. The 10-speed automatic transmission, which is standard on every 2022 Tundra, complies and shifts seamlessly. We had no qualms about the new engine and think it is better than any Tundra engine to date.
Off-roading is, of course, possible with any Tundra four-by-four model. The TRD Pro model, though, fortifies the Tundra for more aggressive driving on tough terrain. For instance, Toyota adds Bilstein shocks, an additional 1.1-inch lift, enhanced coil overs, and a beefy front stabilizer bar. You also get crawl control, a locking rear differential, and a multi-terrain monitor. That last feature is ideal for navigating tight areas and seeing what's ahead with an enhanced view.
---
---
Toyota Tundra Findings
The Toyota Tundra may not have all the powertrain options of its chief competitors or a heavy-duty variant, but it does check off all the right marks in every other category. It's a new truck, the first completely overhauled Tundra in 15 years. We believe most Toyota faithful will be happy with the changes, while some fans of competing models may be intrigued by the changes, especially the newly available hybrid. All in all, the 2022 Tundra delivers a solid model and a worthy complement to the midsize Toyota Tacoma, thus earning its place in a robust market.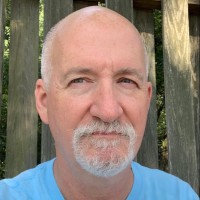 Latest posts by Matthew Keegan
(see all)