There are many vehicles, both past and present, that have not received the notoriety or praise that they likely deserved. One such vehicle is the Pontiac Aztek, which was often chastised by critics for its rather abstract appearance, and general lack of smooth, flowing body lines.
Production of the Aztek was rather short-lived, despite reasonable sales.
Pontiac manufactured the Aztek from July of 2000, through August of 2005. This particular model served as a jumping-off point for Pontiac, in regards to the growing crossover SUV market of the day. The Aztek was sold alongside additional GM models of a similar lineage, such as the Buick Rendezvous.
Unfortunately, most would succumb to much the same fate as the Rendezvous. Read on to learn more about the history of Pontiac's noteworthy, yet short-lived Aztek crossover SUV.
Pontiac Aztek At-a-Glance
Known for: In an ambitious attempt to blend style, functionality, and versatility, the Aztek's "unconventional" design made it a tough sell.
First Model Year: 2001
Final Model Year: 2005
Original Price in 1992: $21,995 (around $38k USD today)
Total Sold in the US: 119,650 [source]
See Also – Toyota MR2 History
What Does 'Aztek' Stand For?
For all intents and purposes, the name "Aztek", was pulled out of the blue during the design process, in an attempt to stylize GM's new crossover as something unique or adventurous.
At the time designers at Pontiac's parent company, General Motors, were looking to break from tradition, creating something totally different than that which the company had created to that point.
It was also rather apparent that Pontiac was attempting to push an outdoorsy theme as part of their sales approach for the Aztek. The Aztek was even marketed with an optional camping package, which included a two-person air mattress and affixable tent-style camper shell. This further solidifies the "Aztek" moniker as a work of implied adventure.
Pontiac Aztek Generations
The Pontiac Aztek only survived a single generation of production before receiving the proverbial ax from top brass at General Motors. Due to this fact, the Aztek underwent few major modifications during the course of its production run, remaining largely unchanged, aside from a limited number of exceptions, most of which were cosmetic in nature.
Upon its release, critics were quick to criticize the Aztek's plastic lower trim panels, which were positioned around the circumference of the vehicle. Pontiac acted upon this criticism, deleting these trim components prior to the Aztek's sophomore outing.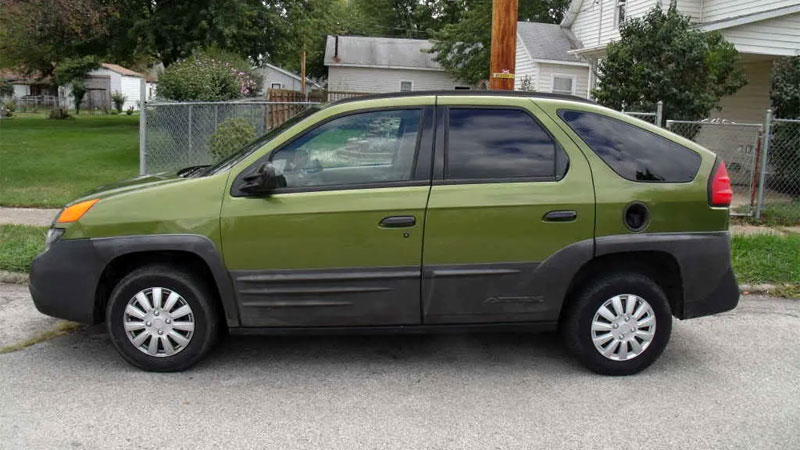 All lower body panels came to feature a paint-matched facade, from this point forward. Aside from this, only the most modest of external styling revisions were made during the Aztek's production run, with the bulk of additional changes coming to the crossover's interior.
At the end of the day, the Aztek simply was a work all its own. Powered by GM's 3.4L V6, the Aztek was offered in both FWD and Versatrak AWD configurations. The Aztek was built upon GM's U-body chassis/frame and came equipped with a 4-speed automatic 4T65-E transmission. All considered, the Aztek achieved a rather impressive rated peak fuel economy of 18 MPG.
The Aztek's interior was often praised for its expanse-fullness, and class-leading cargo space (45.4 ft.). The flamboyant crossover also could be optioned to include a 10-speaker Pioneer stereo, a removable center console, which could be used alternatively as a cooler, and a two-piece tailgate complete with cup holders.
Additionally, consumers could choose between a heavy-duty pull-out cargo tray and a fully-arrangeable cargo net system when purchasing their new Aztek.
The Aztek was offered in several specialty trims during its abbreviated production run. Some of the most notable of these included the GT package, which included revised upholstery/trim, and the Rally Edition package, which was both cosmetic and performance-oriented in nature.
The latter of these two packages introduced a modified (lowered) front-suspension system, body color-matched grille, larger rear spoiler, and 17-inch chrome wheels.
Read Also – The History of the VW Bus
Why Was the Pontiac Aztek Discontinued?
The Pontiac Aztek largely fell victim to its own ill-conceived exterior appearance. GM intended to break the mold when designing the Pontiac Aztek. While they were certainly successful in this attempt, what resulted was not well received by many critics.
The Aztek could be best described as "boxy" in appearance, featuring hard, geometric body lines that did not prove popular with consumers.
As a result, the Pontiac Aztek never sold particularly well. In fact, even at its best, the Aztek never reached GM's self-imposed 30,000 unit "break-even" threshold. When one considers the fact that GM initially projected yearly sales figures to exceed 70,000 units, the Aztek was viewed internally as anything but a financial success.
Ultimately, Pontiac would pull the plug on the Aztek after only five years of production. The Pontiac Torrent would ultimately serve as the Aztek's successor, debuting far more refined exterior styling cues.
The Torrent itself served as a production companion to the similarly styled Chevrolet Equinox, which would go on to define what GM's crossover line would become over the following decade.
See Also – Why Was the Dodge Viper Discontinued?
Common Problems With the Pontiac Aztek?
Though the Pontiac Aztek was mercilessly critiqued for its bewildering external appearance, this GM-designed crossover came rather highly regarded in terms of mechanical composition.
The Aztek was powered by GM's proven 3.4L V6, which also served as a staple of many other models of the era. Similarly, a number of other mechanical systems used in Aztek production were gleaned from other GM models.
The most common problems experienced by Pontiac Aztek owners were related to the vehicle's electrical system. Some consumers have complained of incidents when the Aztek's locks, lights, and instrument cluster beacons malfunction in an erratic fashion. This, in certain cases, can be traced back to faults within the body control module.
Other issues reported by consumers relate to the potential of intake and/or head gasket leaks within the Aztek's 3.4L V6 engine. Though not extremely common, this does tend to be one of the documented weak points of GM's 3.4L V6 engine platform.
Additionally, a limited number of varying fuel system malfunctions have also been recorded, in relation to the Aztek's powerplant.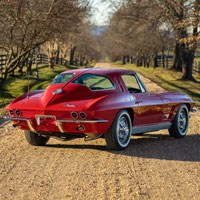 Latest posts by Josh Boyd
(see all)